Cricket ground would become biggest in western hemisphere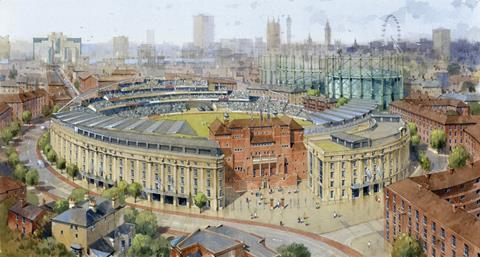 Adam Architecture has been appointed to redevelop the Oval cricket ground in a fully classical style.
The £50 million project for Surrey County Cricket Club aims to make the Kennington Oval the sport's largest ground in the western hemisphere.
Adam's appointment as masterplanner follows the completion of its 2013 work on the entrance pavilion and forecourt, designed by the practice's Hugh Petter.
Under the new project, capacity would increase from 25,500 to 40,000 by replacing the existing Bedser and Laker & Lock stands with up to an additional 8,000 seats.
The existing OCS stand would also be enlarged and new classically inspired terraced commercial buildings would curve away from either side of the entrance.
The work will commence in 2019, when the ground is scheduled to host the opening Test match of that year's Ashes series with Australia, and is expected to be completed by 2023.
Adam Architects have drawn up the masterplan for the project.
Surrey chief executive Richard Gould said: "We have planning permission in southeast of the ground and the planning issues we would have around the Bedser Stand would not be significant because that is next to one of the major roads coming in. We are confident that will not be a problem.
"Money will also be spent on cricket facilities. We will lose the cricket school in the Bedser Stand so it is a chance to upgrade that."
The club's ticket sales have dramatically increased in recent years and has sold out on a number of occasions. Nearly 500,000 people are expected to visit in 2017.
"We have shown the demand is there and we would not contemplate this project unless we were confident we can fill this ground," Surrey chairman Richard Thompson added.