Planning inspector clears way for 120-home Long Hanborough scheme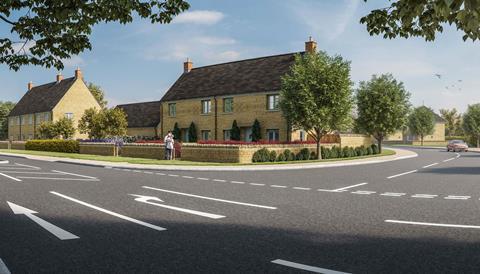 Adam Architecture's Long Hanborough proposals
Adam Architecture has said it expects work to start next year on a 120-home urban extension in west Oxfordshire that it designed for Commercial Estates Group.
The development, earmarked for a 5ha site next to Hanborough Station, was originally denied planning permission on grounds that included its impact on the rural landscape and nearby Grade I listed Blenheim Palace.
But the decision of West Oxfordshire District Council has now been overturned by a planning inspector, who said the adverse effects of the scheme would be localised and did not outweigh the benefits of new homes in a sustainable location.
Adam Architecture director and scheme designer Hugh Petter said the Long Hanborough proposals were an important development for the area.
"CEG share our conviction that good design, rooted in traditional regional character, and with tightly controlled delivery, results in better long term value for everyone, and creates better new places for people to live," he said.
Residents opposed to major development in the area had campaigned against the scheme with the slogan "Say 'no' to a Longer Hanborough".
Adam Architecture said construction could begin onsite next year with completion of the scheme targeted from 2022.
Tyler Grange is landscape architect for the project.