Stirling Prize TV show dropped
RIBA says new coverage is better than "filming guests eating roast beef"
Leading architects have spoken of their disappointment that the RIBA has failed to secure TV coverage of the 2012 Stirling Prize ceremony.
The event will not be televised this year, the first time in more than a decade it has not been broadcast by Channel 4 or the BBC. Instead the BBC plans to give details of the winner during an episode of the Culture Show to be aired "around the time of the prize".
Simon Allford, a partner at AHMM which has been nominated for the prize three times, described the decision as a blow for the Stirling's reputation.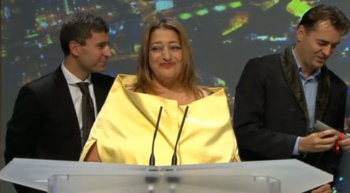 "Not televising it is undoubtedly a loss," he said. "Television does dumb down, but being on TV stops this idea that architecture is some internal discussion. It engages people to think about the importance of buildings to their communities."
The RIBA denied that the move would damage the prestige of the prize, arguing that the new format could result in more compelling coverage of architecture rather than "filming guests eating roast beef".
At the peak of its 10-year run live on Channel 4, the ceremony attracted 1.2 million viewers.
Last year, when it was screened on BBC2's Culture Show a day late, just 280,000 tuned in.
Will Alsop, who won the prize in 2000 for Peckham Library, agreed that the move was disappointing.
"I think it must be worrying for the RIBA because without TV it's more difficult to get sponsorship for the whole event," he said.
"But it's partly their fault for letting the format get stale. The Stirling Prize is important and needs to maintain that position.
If they change the format they might find it back on TV."
A BBC spokeswoman said the decision was made as part of a wider review of the Culture Show, which is being revamped as a shorter weekly programme.
"The Stirling Prize winner will be part of an architecture-themed Culture Show, to be shown around the time of the prize, rather than filming the event itself," she said.
The RIBA said the current format was outdated and it was developing ideas designed to attract bigger audiences.
The jury for this year's prize was named this week as Nicholas Grimshaw chairing Mark Jones, Joanna van Heyningen, Hilde Daem and Naomi Cleaver.