Spitalfields nursery threatened with demolition
Scabal Architects' scheme accused of damaging church's setting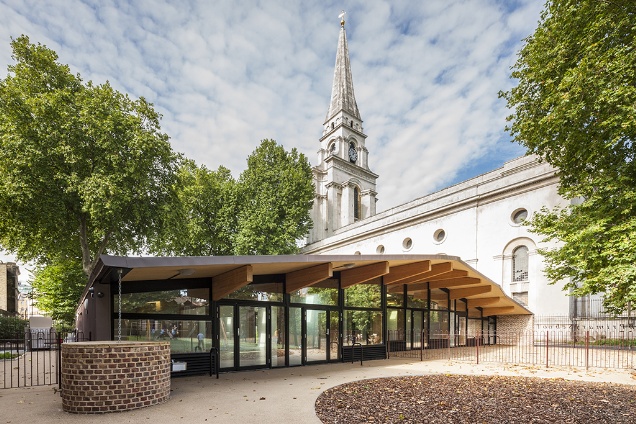 Source: Gareth Gardner
A £1.3 million building designed by Scabal Architects is facing demolition before it has even opened because protestors claim it has broken the law.
A bitter battle has broken out over the single-storey nursery and community centre which stands between Hawksmoor's grade I-listed Christ Church Spitalfields and its primary school on Brick Lane.
The building was completed in the summer holidays and should have opened this term but it remains locked and empty while lawyers fight it out.
Spitalfields Open Space Ltd (SOS) claims the building breaks both the Open Spaces Act of 1906 and the Disused Burial Grounds Act – a criminal offence – and should never have been built.
Its lawyers have written to Tower Hamlets council, the school governors, the diocese and the church demanding it be torn down and threatening them with a judicial review.
Christine Whaite, a long-serving trustee of the Friends of Christ Church Spitalfields who speaks for SOS, said there had been no proper consultation, a charge denied by the architects.
"We all support the school but if it needs more facilities there are plenty of other ways of meeting those needs without building right in the setting of a designated heritage asset that cost £11 million to restore, or committing a criminal offence by building on consecrated ground," she said. "It's quite extraordinary."
Whaite said the council itself had objected to a previous temporary structure on the site – a 1970 youth club designed by Eleanor Michell – on the grounds that it would set a precedent.
Part of the current legal case hinges on whether Scabal's new 365,000 sq m building, which won planning in 2011, is a community building.
As well as housing the school's nursery and reception class it has dedicated facilities for the local Bangladeshi community who could study English in the Victorian school until rising pupil numbers made this impossible.
Jon Buck, a director at Scabal, said the row was a "terrible shame".
"What I'm surprised by is that the occupation of a building with such good intentions should be delayed – let alone knocked down," he said.
"The institution I really feel for is the school. Not only do they not get to use their building but they feel as if they are being persecuted."
He accused the objectors of being small but vociferous group and insisted Scabal had designed "the best building in the best spot".
Inigo Woolf, chief executive of the London Diocesan Board for Schools (LDBS), said: "We hope sense will prevail. We have tried to design a facility that the community all want and that's sympathetic to the churchyard."
Other members of SOS – which consists of the Spitalfields Society and the Spitalfields Historic Buildings Trust as well as the Friends of Christchurch Spitalfields – were not available to comment.