RIBA launches competition for Grimshaw's Birmingham millennium project
Apprentice star Gabrielle Omar on jury
The RIBA has launched a competition for an entrance pavilion for Millennium Point in Birmingham.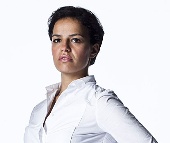 The judges will include architect Gabrielle Omar who shot to fame after appearing on BBC1's The Apprentice.
Millennium Point is a £114 million Grimshaw development which opened in 2001, England's largest landmark Millennium Project outside London.
It provides a focus for activities aimed at developing the technological base of the region, from visitor attractions to businesses.
The competition, run by RIBA Competitions and RIBA West Midlands, seeks design ideas to enhance Millennium Point's visibility and image from the Jennens Road approach.
Source: Creative commons
Chief executive Philip Singleton said: "As a very successful millennium project, we are launching into our second decade with renewed vigour and ambition.
"We want to be more recognisable on the landscape of Birmingham and beyond. I am really delighted to be working with the RIBA to seek out ideas from the profession to design a fabulous and unforgettable pavilion".
A launch event with a briefing session and site visit will take place on December 14. The closing date for entries is January 8.
For further details and a copy of the brief please contact RIBA Competitions on riba.competitions@riba.org.