Put people before masterplans, Gehl Architects tells London Assembly
Incremental change rather than rigidity is the key, says partner Helle Søholt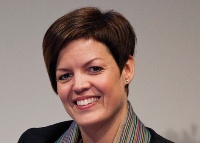 Architects must focus on people not masterplans if they want to reinvigorate failing town centres, one of Gehl Architects' founding partners told the London Assembly this week.
Helle Søholt said cities that succeeded in attracting people and activity were also successful in attracting business.
It was about understanding the city as an organism, she told the London Assembly, whose planning committee is investigating the future of the capital's declining town centres.
Søholt, who has advised cities around the world from New York to Melbourne, admitted there was still very little understanding of how to do this.
"We are in a paradigm shift with planning in the world at the moment," she said.
"We don't know what type of physical form actually supports people. There's not a lot of knowledge so what we need to talk about is how to manage incremental change. That's the model for change my company is advising cities on — not fixed masterplans."
Søholt said densification was the key — not necessarily height but compactness — and cited Barcelona as one of Europe's densest and yet most popular cities.
"It doesn't mean the public spaces are cramped and dark: the spaces between the buildings are very nice and have a human scale," she said.
"Spain might not be a great economic model at the moment but Barcelona's compactness and liveliness are absolutely admirable."
By adding residential storeys to existing buildings in the 1980s, Melbourne brought people back into the city grid, kick-starting its transformation from office ghost town to vibrant mixed-use city, she added.
Søholt's analysis was supported by David West, partner at Studio Egret West, who cited its Clapham Library project as a successful example of a site-specific scheme that brought a mix of uses to the high street.
He encouraged local authorities to think of their town centres as "evolving" as they always
have done, rather than dying, and supported the use of meantime projects as a way of injecting new energy into an area. West added that often it took just one specialist shop or service to act as a catalyst for other
entrepreneurs.
"The power of one can be quite extraordinary," he said.徔