Feilden Clegg Bradley Studios' £120m scheme gets thumbs-up from 1960s design team
Surviving members of the Southbank Centre's original design team have given their blessing to Feilden Clegg Bradley's £120 million plans to transform the arts complex.
Lead designer Norman Engleback and Hayward Gallery project architect Dennis Crompton both praised the radical proposals which have drawn criticism from some quarters.
Crompton was speaking at a public debate held in the Purcell Room this week to discuss the vision behind the original buildings.
He said: "The brief we had at the beginning of the 1960s is now re-written to some extent. There are elements of it I would argue with but the main point is it ought to provide facilities for all sorts of people to come and enjoy themselves. If the drawings and the resulting buildings are the same it will be fantastic."
Engleback's son, Luke, delivered a message from his 86-year-old father who was too frail to attend.
"He was delighted to see what was going on. He's tremendously excited and very pleased by the gradual transformation that started with the Festival Hall," said Luke Engleback.
"He thought it was a very refreshing idea to put something lightweight on the building," he added referring to the imposing glass rehearsal box that will tower over the complex.
The debate, chaired by Peter Clegg from Feilden Clegg, was later hijacked by objectors who repeatedly asked questions about the skate park, aerial walkways and the public consultation.
One skater declared, to applause: "You are an arts and cultural centre. For skateboarding to exist as an art it must exist in a space that wasn't built for it or it becomes a performance space."
The Long Live Southbank campaign has applied to Lambeth council to have the skaters' undercroft listed as a community asset under the Localism Act and Community Right to Bid. This would give them the chance to buy it if it were put up for sale.
Under Feilden Clegg's plans the skateboarders would be moved to Hungerford Bridge to make way for a riverside entrance and a parade of shops and galleries, including one devoted to the history of the Southbank Centre.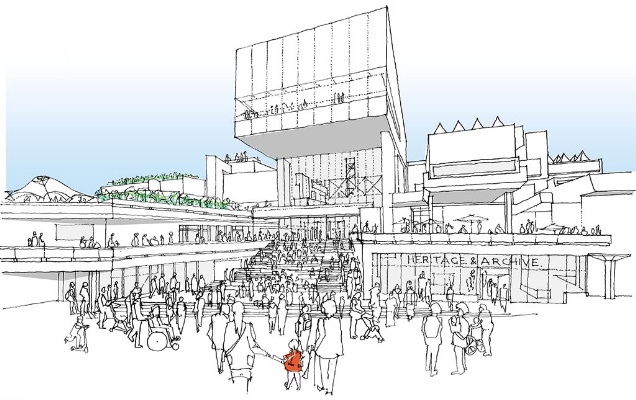 Source: Fielden Clegg Bradley Studios
A number of critics have raised concerns about the commercialisation of the arts centre but Luke Engleback revealed the original architects wanted retail booths but were blocked by bureaucrats.
"The architects wanted that kind of life happening," he said. "But people running the LCC at the time seemed to be putting barriers in the way."
Southbank artistic director Jude Kelly said: "There was a lot of snobbery around the idea of trade which didn't take into account that most people's experience of enjoying themselves would include having a drink and buying things."
As the audience became increasingly critical she pledged not to "kill life" with corporate tenants.
"We want to show how imagination develops things, which is not quite the same as having any shops or any restaurants," she said. "It has to have a particular, individual flavour."