Scheme will be the size of Battersea Power Station
Cambridge practice NRAP Architects has submitted plans for the so-called Newham mega-mosque, more than two years after a previous scheme by Allies & Morrison bit the dust.
The planning application is the first to be lodged despite three architects working on the project since its inception in 2006.
NRAP was appointed in 2011 and drew up plans that included retail units and 300 flats on the 6.5ha site near the Olympic Park.
But these have now been dropped after the Muslim community that is funding the 9,350-capacity mosque - including 1,830 segregated places for women - objected to the idea of its donations going towards a commercial venture.
The scheme submitted to Newham Council by the controversial Islamic missionary movement Tablighi Jamaat is for a mosque, 2,000-capacity dining hall and Islamic library, plus a sports pavilion and playing fields for the wider community.
There will also be children's facilities, eight flats for imams and overnights visitors and 300 car parking spaces.
The mosque, which will include two 15m minarets, has been scaled back from original plans to accommodate 12,000 worshippers, but will still be roughly the size of Battersea Power Station.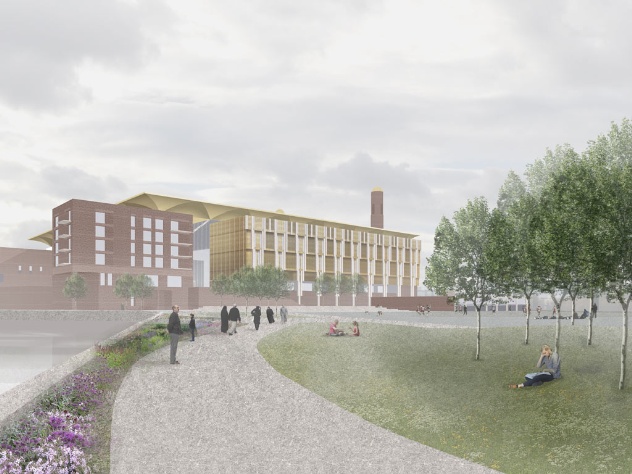 The materials will be dark brick with aluminium alloy screens treated with a shimmering copper finish. These will be used as cladding in some places and in others as perforated veils over glass.
NRAP director Richard Owers said it was a "genuinely West Ham mosque" because, aside from the minarets which were a key requirement of the client, the design involved a "subtle underplaying of traditional Islamic architecture".
From the outside the roof appears flat but inside 35 coffers create a small dome.
He acknowledged there was local opposition to the mosque but said it was the only realistic option because the site, an old chemical works, would prove unviable for all but the richest developer because it is so contaminated and cut off by rail lines and sewers.
"I can't think of a better site to put the mosque on because it's such a tricky site to develop," he said.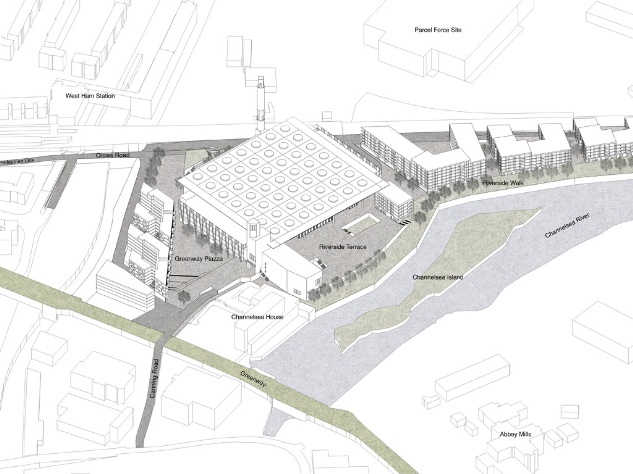 The original architect appointed in 2006 was Mangera Yvars but it was replaced by Allies & Morrison after a year when attempts to work together collapsed in acrimony, only for the second practice to be dropped in disputed circumstances last year.
Last year Newham Council served an enforcement notice on the group after temporary planning permission expired for the pre-fab its followers have been meeting in on the site.
Temporary permission was later renewed but Owers said the fact this is due to expire again next spring had helped the whole team concentrate on submitting a planning application.