Morrell appointed as government chief construction advisor
BD columnist Paul Morrell has been appointed to the new £120,000-a-year role of government chief construction advisor.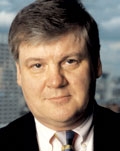 A former senior partner at cost consultant Davis Langdon and a previous deputy chairman of Cabe, Morrell will work with Government and the industry to act as a link between the two.
He will report to the Treasury and the Department for Business Innovation & Skills, with offices in both departments, and is due to start his job on December 1.
Officially, he will work three days-a-week but it is expected the 61-year-old will work up to five days a week.
His first task will be to lead the Low Carbon Construction Review, announced by business secretary Peter Mandelson in September and due to report its initial findings in spring 2010.
Morrell said: "Now is the right time [for government and industry] to work together and I know we have the capability to rise to two of our biggest challenges: to get more value out of our product and to take more carbon out of its creation and use."
Other remits of his role will be to chair a new Construction Collaborative Category Board whose brief will be to get best value out of Government construction procurement and promoting innovation in the sector by working with the Technology Strategy Board.
Construction minister Ian Lucas said: "With broad experience across sectors including commercial, health, residential, arts and transport construction, Paul Morrell is well placed to support the industry to take advantage of the growth opportunities offered by the 21st century."
RIBA president Ruth Reed said: "We feel confident that Paul's considerable and varied experience will ensure that he truly champions and represents the construction sector. Paul has been an ambassador for good design having been at CABE. Now more than ever we need a focus on the construction sector looking at sustainable construction, the recovering economy and regulation of the industry."
Postscript:
To read Paul Morrell's columns click here