John McAslan takes fight to the people of Glasgow
Architect defends his George Square scheme
John McAslan has taken the fight to save his competition-winning design for George Square to the people of Glasgow.
The architect stood in the square for 40 minutes in the pouring rain this week explaining his ideas.
He also showed them how the practice had already responded to their views by greening its original scheme. Further changes are planned in response to the latest comments.
Being able to communicate directly with the people, both critics and supporters, proved constructive, he said.
"A lot of this is about graphics and how the public perceive an idea," he said. "It's amazing when you have the opportunity to present directly to people because you can see how things have been misinterpreted."
John McAslan and Partners was named the winner of a £15 million competition to redesign the central Glasgow square earlier this month.
But minutes later the leader of the city council, Gordon Matheson, announced they would not be proceeding, blaming public opposition to any radical changes.
Matheson was on the jury and some reports – denied by the council – suggested he favoured a rival scheme by Burns & Nice and cancelled the competition when the Farringdon-based practice lost.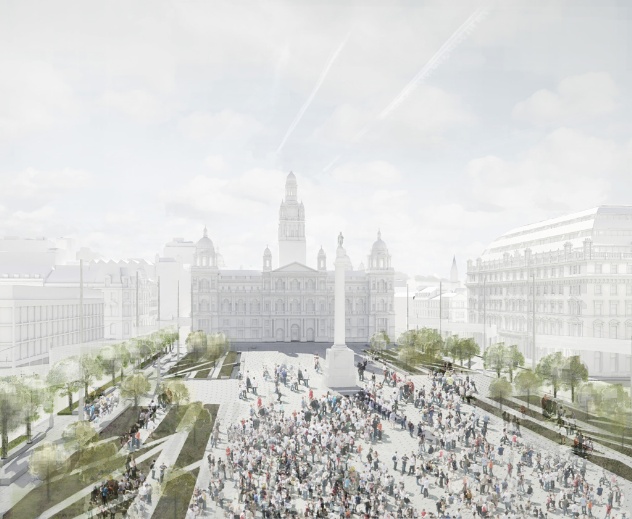 He has accepted McAslan's request for a meeting, though a date is yet to be fixed.
McAslan told BD he was doing all he could to save the scheme by launching his own public consultation, beginning with Monday's speech in the square – but that ultimately the decision would be Matheson's.
As the rain lashed down he told the crowd that his Glaswegian heritage meant he couldn't think of a better commission.
"It is all very personal. It is not about money, it is about trying to do what you think is the right thing," he said.
"From my upbringing I am a bit of a stickler when I think processes aren't followed.
"Politicians are known for wriggling around and I don't like that. [Matheson's] decision undermines the process, it undermines his officers, it undermines the jury, but I would like to draw a line under it. We are in the second stage, which is to engage."
A council spokesman said: "If design 6 [by Burns & Nice] had been chosen we would not be implementing that either."