Fees hike fails to put off students
Architecture courses as popular as ever, say universities
Architecture schools across Britain are bursting at the seams on the eve of the new academic year.
The record hike in tuition fees and the first fall in A level standards for years have been brushed aside by bullish architecture deans.
They said competition for places was fierce, meaning only the most gifted students are being accepted on to courses.
At the Bartlett 1,800 people fought over 80 places, but the picture was repeated at universities from Portsmouth to Newcastle, which reported a "bumper crop".
"We're full. Architecture seems as popular as ever," said Mike Angus, director of education at Strathclyde. "We certainly haven't been panicking about whether we'd fill our places. You never know what the consequences of fee changes will be but the predicted headache hasn't happened."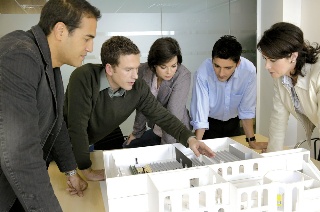 At Kingston Daniel Rosbottom said they had been overwhelmed with applications at parts I and II. "We have had so many outstanding applications at diploma that we're thinking about adding a fifth studio to the course," he said.
Around 30 institutions are listed on the UCAS Clearing website as still having places for undergraduate architecture. Greenwich, Brighton and the University of East London still have space.
But in many cases institutions are in Clearing to cream off students who did better, not worse, than expected.
One of the schools taking advantage of the new "room at the top" rules is Manchester where head of school Tom Jefferies said they had managed to squeeze in a few more of the brightest students despite being full.
He said it was good for the profession that competition remained tough despite the prospect for students of graduating with £60,000 of debt. But he challenged the industry to start paying salaries that justified the fees.
Paul McCombie, acting head at Bath, said: "Architecture is a very popular subject and every school has high standards of entry. Our course is very heavily oversubscribed and it's difficult to get in.
"If you have missed your grades by a sizable chunk I'd advise you to take a year out and either reapply with better grades or rethink your career."
Meanwhile Bartlett sees fall in private school applications
The only indication that the new fee regime has had any impact was at the Bartlett where applications from privately educated students were down slightly.
Director Marcos Cruz said this was balanced by a small upswing in state school applicants.
"We think private school parents probably asked their children: 'Are you sure you want to study architecture?' Some may have gone to the US, but we think they'll be back next year. People need time to come round and see there aren't a lot of alternatives."
Overall, applications to the Bartlett were down by 10% from a high of 1,900 last year, when students scrambled to get into university before fees went up.