Architects head for war-torn countries
Practices urged to seek work now, or lose out
The world's biggest practices are turning to war-torn countries including Iraq and Libya to boost flagging workloads elsewhere, according to this year's WA100 survey which is published today.
In Iraq alone there are projects in the pipeline worth billions of dollars, including a $1 billion tourist city in the eastern city of Kut.
Architects polled for BD's survey of the world's 100 biggest practices identified Iraq as one of the five countries with the biggest potential for growth.
Aecom, which has regained its position at the top of the league, is one of the practices working out there with USAID and is understood to have won Baghdad's new parliament in a joint venture with London-based Assemblage. Zaha Hadid Architects, which is placed at number 45 in the table, is already designing Baghdad's central bank.
Doug Godden, senior economist at Oxford Economics, said it was worth getting in at the start of a country's rise.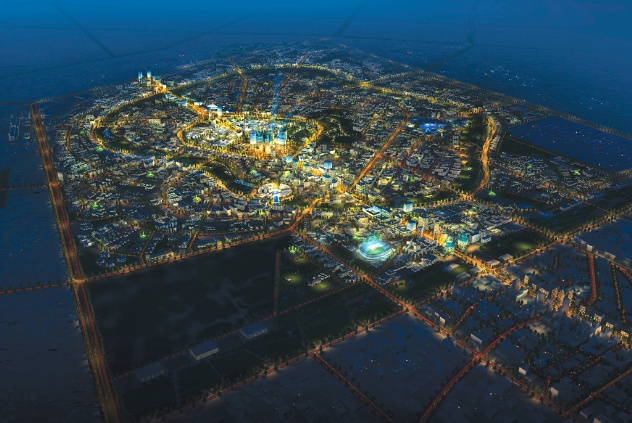 "Countries with low incomes and great scope for infrastructure development tend to see the fastest growth over the medium term," he said.
According to the Global Construction 2020 report he co-authored, construction spending in the emerging nations of Asia Pacific will more than double to $4.5 trillion in the decade to 2020. The Middle East and North Africa will grow to $556 billion.
James Berry, principal at Woods Bagot, said: "I suspect it's more a sign of the bad state of the British economy that British architects are finding themselves in these strange places rather than it being where opportunity really lies."
But the architects working there disagree. Peter Vaughan, a director Broadway Malyan, which masterplanned a $10 billion extension of Sadr City in Baghdad, said some architects were simply more adventurous.
"Without question Iraq has a big pipeline of work. But if you leave it five years before trying to get in you'll definitely have missed it," he said, adding that he would also consider Afghanistan.
 "Iraq has a huge workload, but it is short of resources, suppliers, designers, engineers and contractors," said Bartlett-trained Iraqi architect Akram Ogaily from project manager Hill International.
Jack Pringle, a director at Pringle Brandon Perkins & Will, is looking at masterplans in Erbil, capital of Iraqi Kurdistan, which the Foreign Office considers the only safe area.
He said getting paid was a bigger concern than safety. "Iraq has got its challenges but there will be a huge amount of opportunity there," he added.
Meanwhile, in Afghanistan an entire $34 billion city for 1.5 million is being planned by the Japanese just outside Kabul.
The architect appointed to the first, 1,200ha phase of New Kabul is Morphogenesis, India's third-biggest architect.
Its AA-educated managing partner Manit Rastogi said: "It will take some time for people to get over the idea of Afghanistan as a war zone but the perception of how much conflict there is is highly over-rated."
Lyn Edwards, senior partner at GMW Architects which lost a $650 million resort in Syria at the start of the civil war, was approached to work in Kabul but turned it down.
But the practice is working in Kurdistan, is bidding a small town in Libya and remains in Beirut where trouble still flares regularly.
Nick Lomax, MD of LCE Architects in Brighton, is also back in Libya, but only on a small private job through a joint venture partner. It won't be looking for public sector work until it is paid for jobs it did before the civil war.
He is also exploring two separate invitations to work in South Sudan, the world's newest country. Its peaceful secession from the north descended into violence this year but oil reserves give it good prospects.
He said the motivation for working in such countries was as much about being able to make a difference as it was about money.
What conflict?
Iraq
Construction output is tipped to be 7% by 2020.
Work includes transport infrastructure, entire cities, hospitals, schools, three Olympic-size stadiums worth a combined $400 million and 3.5 million houses in the next decade.
UAE-based Dewan Architects & Engineers, number 49 in this year's WA100, opened its fifth office in Iraq this year, where projects include Karbala University HQ, a hotel at Baghdad airport, Basra Culture Palace, and a sensitive conservation project at Kadhimiya.
Afghanistan
New Kabul, a $34 billion city five miles outside the capital, is being planned in phases to 2025.
Thai-based WA100 practice Design Worldwide Partnership has designed a 30-storey residential scheme featuring two towers plus a 10,000sq m shopping mall.
As troops withdraw there will also be remediation and improvement work.
Libya
Libya's economy is tipped to be the fastest-growing in Africa this year.
Construction output is predicted to grow from 4.4% to 6.1% by 2020, though this is still well below the 30.8% pre-Arab Spring.
Airports, infrastructure and repairs will be the first priority, followed by government buildings, schools and hospitals.
Nigeria
Construction activity is tipped to more than double to $17 billion by 2020, according to Oxford Economics. The nation's GDP growth rate is more than 7%.
The authorities are planning a new airport and $30 million hospital for the expanding Lagos suburb of Lekki, said Femi Oresanya, of HOK, number 8 in this year's WA100.
There is a great need for housing and Grade A offices. Hilton is planning hotels in Abuja and Port Harcourt, which saw violent demonstrations in October.
Angola
After years wracked by war, Angola now boasts the third fastest-growing economy in the world, at 15.1%. There is a need for international-standard offices as well as low-cost housing. The Chinese are building a string of satellite cities.
Somalia
Somalia, whose capital Mogadishu was until recently the most dangerous city on earth, is now experiencing an invasion by Turkish design-and-build contractors keen to capitalise on the reconstruction opportunities as peace spreads.
Istanbul's FOM Group Architects is working on a hospital but other opportunities include the port – and rehousing the city's 200,000 slum dwellers.