One year on, the birthplace of the riots is the site for grassroots change
A year ago Tottenham was in flames. After an incendiary week of riots that saw parliament recalled and all police leave cancelled, politicians vowed looters would face hefty jail terms. They also promised cash for the most deprived communities in a bid to tackle the perceived causes of the mayhem.
But, one year on, how much has been achieved on the ground?
The Tottenham taskforce set up in response to the riots, featuring heavy hitters such as Stuart Lipton, Tony Travers and Paul Finch has yet to produce its report.
Last week Haringey council published its Plan for Tottenham, an ambitious 56-page document that is bullish about the future, while acknowledging that the pace of change needs to accelerate.
The report promises 10,000 new homes and 5,000 new jobs by 2025. It identifies four key areas where development should be encouraged: the high road; Tottenham Green and Seven Sisters; Northumberland Park; and Tottenham Hale.
And it claims £1 billion of investment has already been secured, through major developments that are already happening in two of the areas.
These are the £430 million wider Spurs stadium scheme by KSS, which won planning in February, and the £400 million mixed-use Hale Village scheme at Tottenham Hale, with its excellent rail connections.
Taskforce member Tony Travers, director of LSE London, said the council was going about it the right way and had a "seriousness of intent".
"With the best will in the world one year wouldn't be enough to reverse the long-term economic decline and other problems Tottenham has suffered. It will require attention for many years but these things are possible. Look at Notting Hill," he said.
In January, Tottenham was awarded £41 million from the mayor's post-riot Regeneration Fund, by far the largest share of the £70 million pot.
Most of this is earmarked for transport infrastructure and public realm improvements around the stadium. Another chunk will go towards buying up and improving key sites on the high road to kick-start housing, employment and community growth.
The first tangible sign of this is Tottenham Public Room, a £150,000 community space which has been designed by Gort Scott opposite the Carpetright store whose immolation became an icon of the riots.
The extended pavilion was built in five weeks in a yard beside a handsome Edwardian building that housed the council planning office until it too was fire damaged by rioters. Bought by the GLA, it is now destined to be converted into micro-business units let to local entrepreneurs for £50 a month.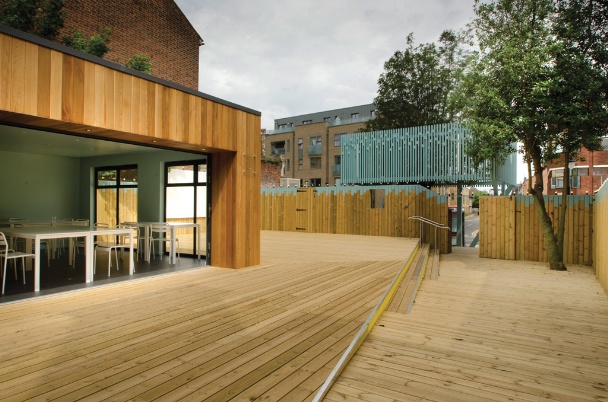 Gort Scott's pavilion was commissioned as a place where the community could meet, and its construction sparked great interest among passers-by. It is already lined up for film screenings, bike repair workshops, a sewing club and youth groups.
Director Jay Gort said: "We were warned there were people who wanted it to fail because it was seen as being by the mayor, but actually people seem to really love it so far."
Gort is not concerned that it has taken a year for anything to be built. "You don't want to go in heavy handed," he said. "You need to evolve the brief and work with community groups to anticipate need. And there has been quite a lot of architectural work going on behind the scenes."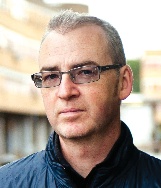 Much of this has been done by East and Design for London, led by Mark Smith. East was appointed before the riots to carry out a study for Tottenham High Road identifying potential development sites and writing design briefs. This work is now complete and the fruits should follow, providing that developers can be lured to the high road.
The practice has also been working on public realm ideas for Tottenham Green, which is currently a scrappy piece of grass heavily shaded bymature trees but ringed by some fine public buildings.
"Can architects stop people rioting again? I've got to say yes," said director Julian Lewis.
"Shaping the city and the public realm can help people make other choices about how to take ownership of their own environment and lives.
"Obviously it's only to a certain point, but a run-down place that doesn't look cared for is much easier to start smashing up."
A survey this month found that more than one in four young people believe there could be more riots this summer, so one can only hope the optimism is justified.

Students help make Tottenham Happier
Being the crucible of last year's riots has left Tottenham with more than physical scars.
And when architects Dominic McKenzie and Peter Morris set their Birmingham City University diploma students a project on the unhappiest place in Europe the students chose Tottenham, even though Birmingham itself suffered some of the worst rioting.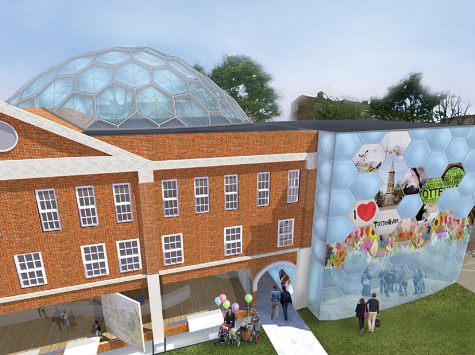 An exhibition of the students' work, Happy Tottenham, opened at the Bernie Grant Arts Centre last week, its launch attended by local MP David Lammy.
McKenzie and Morris hope the students' ideas will inspire simple regeneration projects which, like the exhibition, could be crowd-funded through Spacehive.com.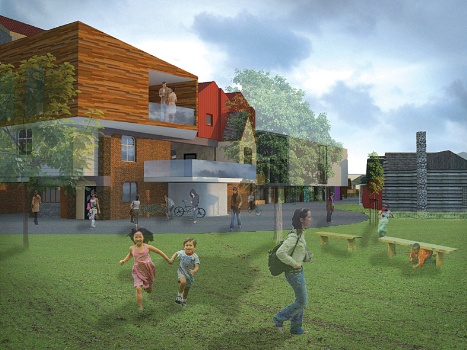 Building on the theme of happiness, some responded directly to the riots, with Tumi Jegede keen to open up the forbidding facade of the police station where the riots kicked off and Maria Nikolousi suggesting domestically scaled prisons created from clusters of old shipping containers.
Rishi Bodhani proposed the gradual transformation of a marshy brownfield site to the east of Tottenham High Road into a small community self-built around an income-generating fishing lake.