Hyde Park Barracks investor wants 'world's best' to work with Quinlan Terry
Dixon Jones named as architect by rival team for site
The developer behind Francis Terry's proposal to replace Basil Spence's Hyde Park Barracks wants to hire "one of the world's greatest architects" to design the interiors.
Five practices will be invited to tender for the job of creating state-of-the-art interiors for the French classical-style building.
Quinlan and Francis Terry would play an instrumental role in picking the winner, with the criteria including quality of ideas as well as price.
The rest of the "huge design team" would work under the father-and-son practice, QFT Architects, with Quinlan Terry sitting on the development board.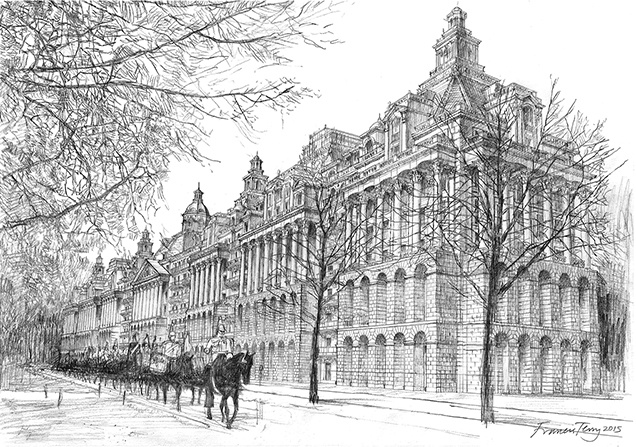 The news came as Francis Terry released a new image of his proposal, a perspective view of the flats which would be built next to a new barracks for the Household Cavalry, also to be designed by QFT.
Bruce Rippon, the former banker putting together the bid to buy the site from the MoD, said he expected several of the five interiors architects would be British practices working internationally.
"The names are kind of obvious," he said. "It's got to be a firm that complements [Terry] and doesn't think in a completely different way. The extreme modernists of this world wouldn't be able to work with them but anyone who's a bit more flexible and who has the experience would be able to do it.
"It's up to us to invite five firms but I suppose anyone who's interested could try and impress us before that shortlist stage.
"It's such a big honour and a huge project – why would someone not be interested?"
Rippon said his firm, SD&B International, was "ready to rock and roll" but was waiting for the MoD to make the next move on the sale which is expected to net at least £650 million.
He is just one of a number of serious players jostling for the prime site on the edge of Hyde Park.
Last week it emerged that Dixon Jones has been hired by the property developer Cheval to design a rival mixed-use proposal backed by money from Dubai. The practice replaced Rogers Stirk Harbour on the stalled Chelsea Barracks development.
Partner Ed Jones told the Telegraph: "We are proposing a domestic classical design, using light stone and generous garden terraces and pergolas to complement the architecture of Knightsbridge and Kensington. We also want to open up views into the park so more people can enjoy the wonderful views of the Serpentine."
Rippon said he wasn't intimidated by reports of 20 rivals, dismissing them as "the usual suspects circling".
"We've got a world-class team and we're the only party to come up with a credible proposal or design," he said.