Ovaltown "Zone of Tolerance": An Urban Design Charette
London Festival of Architecture
The Oval, London E2
4/5 stars
Eight architects unveil their visions of a deregulated east London street
The Oval in Hackney has little in common with its south London namesake, bar geometry. It's a virtually unknown back street hidden from the main road beyond an apparent dead end and filled with light industrial buildings whose windows are secured by grilles.
Play cricket here and the ball would end up in the Regent's Canal or smash the window of a car parked on the central ellipse.
Yet there is something enchanting about the space. It has the feel of a chasm hewn from the blank faces of post-war warehouses where you catch a generous glimpse of sky overlooked by Victorian gasholders.
This was the site chosen for the sixth urban design charette organised by Roger Zogolovich and Lee Mallett for the London Festival of Architecture. Given its proximity to some of the most fashionable spots in east London, they believe it has the potential to be next.
Eight practices were invited to take part in last week's charette reimagining the street as a deregulated zone of planning tolerance.
The judges — Kathryn Firth, Simon Allford, Paul Finch and Peter Bishop — found themselves assessing the determinedly practical to the whimsical.
Ash Sakula's entry was the most playful, though they deployed developer Crispin Kelly to "prove" crowdsourcing would fund their extraordinary towers sprouting from the gasometer ponds. Each storey would be built underground and jacked up so the earliest tenants would eventually find themselves with Shard-rivalling views.
Drawing inspiration from the entirely unregulated Kowloon Walled City, Platform 5 suggested a game of spin-the-wheel every three years to change use classes would keep things fresh and discourage gentrification.
Others had proposals for stabilising property prices. Rogers Stirk Harbour and Citizens Design Bureau convinced with a community moot hall that would act as the street's planning authority.
Karakusevic Carson argued incremental development in the form of flat-pack roof extensions — plus a 48.5m Olympic pool in a gasometer "to guarantee local records" — would stave off a property gold rush.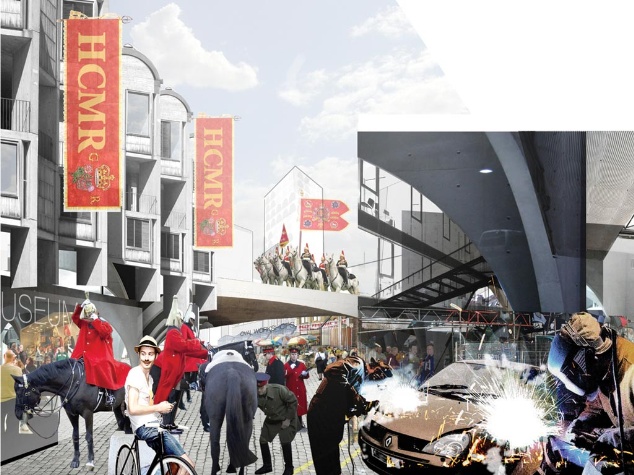 ORMS presented the most developer-friendly, but perhaps least interesting option, in which three towers funded event spaces that erased the oval itself.
McDowell & Benedetti and 5th Studio showed viable solutions could still be imaginative. The former proposed selling air plots within an envelope agreed by the council. And the latter delighted with a storyboard in which the Household Cavalry became anchor tenant and the mound from Robin HoodGardens was relocated into a gasometer.
The charette ended with a typically leftfield submission by Mossessian & Partners, which suggested the street could be intensified without losing the "voids" that form 65% of it. Neighbours would be forced to collaborate to reconfigure their party walls into shared spaces.