Heatherwick's escapism steals the show at the V&A
Heatherwick Studio:
Designing the Extraordinary
Victoria and Albert Museum, London
Until September 30
The focus on process over product will appeal to architects
Designing the Extraordinary is an exhibition with very ordinary ambitions.
According to curator Abraham Thomas, those ambitions are simply to present Heatherwick Studio's body of work as a series of "themes, ideas and interrogations" rather than a set chronological path of completed works. In other words, this is an exhibition that aims to focus on process rather than product.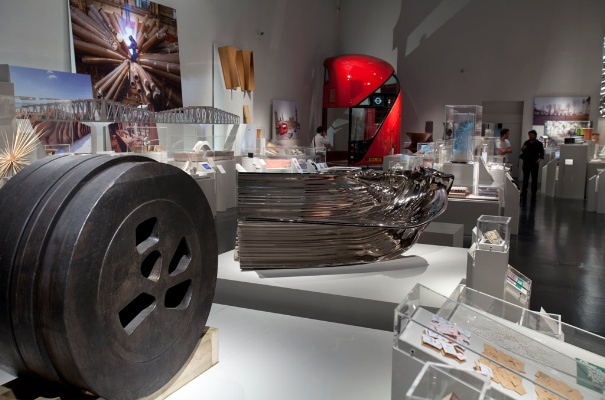 Source: V and A Images
This ambition is evident from the start. The exhibition is staged in a deliberately softly lit room crammed full of photographs, prototypes, models, maquettes and material fragments. Wandering amongst this burgeoning repository of works feels akin to peering into a cave of artefacts or spying on a dimly lit artist's garret or studio. It immediately captures something of the chaotic and claustrophobic sense of voyeurism so richly evoked at the Sir John Soane Museum.
The exhibits themselves are arranged in no particular order but are gathered in "conceptual clusters" designed to reveal the "interrelation of ideas" that informs the studio's work. This in itself creates a compelling set of contrasts throughout the show. The sinuous aluminium curves of Extrusions - a chair formed from a single piece of metal - sit opposite a full-size replica of one of the Perspex rods of arguably Thomas Heatherwick's most famous work, the UK pavilion for the Shanghai 2010 Expo.
Elsewhere, a full-size prototype of the new London bus protrudes impassively from a corner also housing a fascinating model of a compressed glass bridge implausibly supporting a 25kg weight. And a bespoke Heatherwick-designed canopy of upturned white-painted traffic cones adorns the museum's ornate Edwardian entrance.
Throughout, Heatherwick's obsession with tactile surfaces, expressive forms, and experimental materiality and fabrication techniques is strongly in evidence. Moreover, the core conceptual driver of his work - the combination of architectural design and practical craftsmanship - should be evident to even laypeople. For this end, much effort has been taken to immerse the visitor in the design process with copious audio and video media available.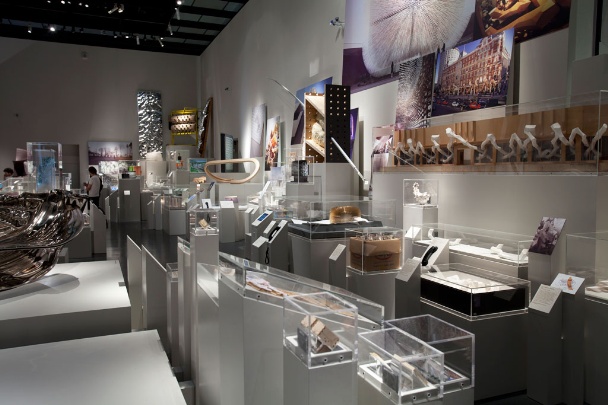 Source: V and A Images
But the irony remains that for all the effort taken to elevate process over product, an approach that will invariably chime with architects, it is still the objects themselves with their primal sense of experimentalism and escapism that will steal the show for many members of the public.
Heatherwick's unique skill is in making the ordinary extraordinary. Few architectural retrospectives therefore are as neatly encapsulated by traffic cones and the back of a bus.
Postscript:

Designing the Extraordinary is at the V&A until September 30.
Thomas Heatherwick: Making is published by Thames & Hudson, £38.