Sky Arts Ignition: Doug Aitken - The Source.
Tate Liverpool
www.biennial.com
Until January 13
Doug Aitken and David Adjaye encourage you to eavesdrop on Tilda Swinton and Jacques Herzog
As their collaboration for the Liverpool Biennial was erected outside Tate Liverpool, David Adjaye and American artist Doug Aitken realised they had created something akin to the perfect dinner party, albeit one without food.
The Source is a series of hour-long conversations with 18 of the "the world's most established creative individuals" edited down to four minutes each and shown concurrently on six screens in a pavilion designed by Adjaye.
The visitor standing in the hub of the darkened cylinder hears a cacophony of competing voices. But step towards whichever screen most appeals and immediately the noise evaporates and a single conversation comes into focus.
The images are beamed out to people who might never walk into a gallery
Thanks to the precision of sound shower speakers and baffling systems you can eavesdrop on Tilda Swinton, Jacques Herzog, Beck, Devendra Banhart, or Adjaye himself, discussing the source of their creativity with Aitken.
"It's almost like coming to a dinner table and seeing all the people you'd most like to have dinner with and listening to all the conversations," explains Adjaye, "but being able to shuffle the table and go to the person you want to listen to."
The timber-framed corrugated pavilion, coated in bitumen save for a translucent acrylic strip, has been erected beside Albert Dock for the biennial, which runs at locations around the city until November 25.
By day, inquisitive visitors file into the pavilion, but by night Aitken's vision for the work to be visually communicative is realised as the images are beamed out to people who might never walk into an art gallery.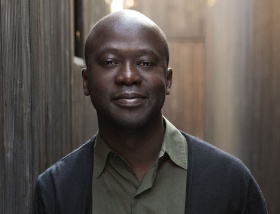 Says Adjaye: "As dusk falls, the blackout curtains are moved away, and suddenly the building disappears and all you see is a ring of interviews that seem to hover in space, like a flickering beacon."
Adjaye has long had a fascination with "disappearing" buildings, as well as with pavilions, which he likens to sketchbooks — spaces to reflect where "pure idea and testing really occur".
With The Source the idea was to take advantage of developments in technology; to rip up the rules that say projection spaces must be hermetic rooms with audiences sitting in judgement in passive rows.
"We wanted to use it as an opportunity to make a new kind of viewing space that was both social and intimate at the same time," says Adjaye.
"It's not just a container for projection but somewhere for collective experience. It's a panoptic space where you can see all the screens at once, with friends."
It's also, adds Aitken, a space that empowers the viewer, who must actively choose when to listen and when to walk away.
"At first there was a nervousness," admits Adjaye. "People were saying, 'My God, it's very simple'. But it's not as simple as you think. There are very carefully considered issues about the nature of the space, the dimension of the space. It was a huge discussion.
"We finally realised that in the context of the Albert Dock there'ssomething very beautiful about putting a very Platonic, pure form in the geometric, rectangular brick enclosure and doing something that was soft against the hardness of the materiality of the context. It seems like the right thing."