Concrete and Culture: A Material History
Adrian Forty
Reaktion, 304pp HB, £27
Adrian Forty's new history of concrete takes an admirably even-handed approach to a material that polarises opinion
At St Saviour's Church in Eltham, south-east London, the leaflet that introduces the building to visitors makes a symptomatic slip. After seeing the brutal concrete exterior of NF Cachemaille-Day's church, it tells you, people are usually surprised by the light and beautiful interior. Except, on the exterior, the material is brick — the bare concrete is all inside. What this reveals is the strength of a nearly unshakeable canard. Concrete means ugly, to the point where anything ugly is probably made of concrete.
Accordingly, those of us who might own up to being concrete fetishists are fully aware that we are considered odd. In architectural circles, the gradual rehabilitation of post-war architecture or the emergence of more or less chic forms of concrete minimalism might leave us feeling slightly less like pariahs, but a minority taste it remains. At the beginning of this book, Adrian Forty remarks on the baffled and hostile reactions he received when telling the uninitiated what he was writing a book about. This may or may not have had an influence on the book's remarkably even-handed, informative and approachable tone.
A barely updated version of mud that performs prodigious feats of structural engineering
For Forty, the most interesting thing about concrete is its status as, in reluctant exponent Frank Lloyd Wright's words, a "mongrel material" — a (mostly) artificial substance that takes on the properties of primal slop, a symbol alternately of modernity and underdevelopment, a building material that can rely equally on the most unskilled and the most specialised labour, a barely updated version of mud that performs prodigious feats of structural engineering. The sheer diversity and complexity of its various uses, as described here, make an obvious mockery of the usual knee-jerk reactions; but Forty takes an equal glee in dismantling the attempts to make a system of architectural moralities out of a protean material.
Even the most "truth to materials" approaches to concrete are, in his account, contrivances. The visible shuttering imprinted on the Unité d'Habitation or National Theatre is a marker of artifice — reinforced concrete presented as wood! — as much as the marks of the labour process. Accordingly, he shows an interest in architects that took a delinquent, even whimsical, approach to the material, from the eclecticism of 1950s Italy, unskilled work intersecting with the avant-garde in Brazil, or the obsessive, structurally wasteful play of shuttering in Caruso St John's New Art Gallery.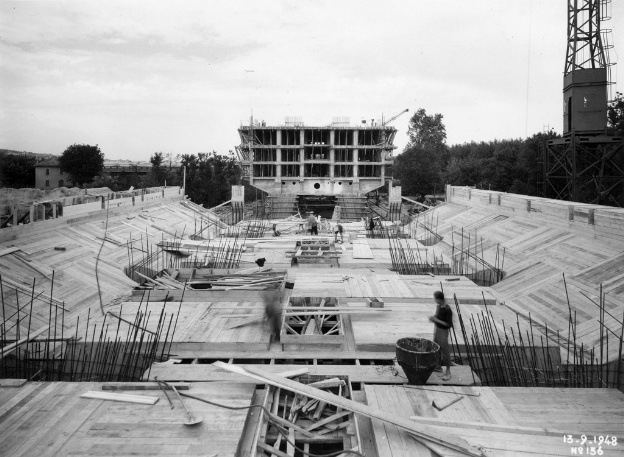 Source: © Fondation Le Corbusier
Concrete and Culture is divided into thematic chapters, focusing on the material's conjunctions with history, nature, religion, politics, photography, labour and labour relations, and its putative renaissance. Each is full of insights conveyed with a sharp political and architectural intelligence.
Source: © Helene Binet
"Politics" is typical, focusing on the use of the material in post-war communist and social democratic building programmes. Forty details how Khrushchev's attempt to solve the Soviet housing crisis, while leaving enough resources for the arms race, ended in an absurd literalism, with site, and suitability irrelevant to the mass production of identical blocks. Unusually, he slightly overstates this — by the eighties, Eastern Europe had become practically postmodern in its approach to concrete panels, making them Wilhelmine in Berlin or Islamic in Central Asia. This only supports the central argument, however — that finding truth or solidity in concrete is surprisingly difficult.
What remains constant, though, is its sense of mass and physicality, properties conspicuously lacking in contemporary design, renaissance or otherwise. In all its infelicities, it's hard to imagine another material so emblematic of modernity's contradictions and possibilities. It's equally hard to imagine a better book on the subject.