The London Design Festival is still pushing the boundaries as it celebrates its 10th year
"I like to think I will be wheeled out fondly as 'our founder' in 60 years' time." Ben Evans is talking about the future of the London Design Festival, which he and John Sorrell launched 10 years ago. It has grown from 30 events to more than 300 and has taken on the kind of momentum that should assure its long-term presence on the capital's cultural calendar.
"I want this thing to outlive me and I think it will now," says Evans, who is the festival's director. "But I don't want it to get much bigger. It starts to become unmanageable. People already complain there's not enough time to see everything."
The beauty of the festival's structure is that Evans and his team only organise 5% of the content that is crammed into the 10-day programme, which will be held from September 14-23 this year. Anyone can propose an event. They must all be cleared by Evans but most make it through because he believes in stretching the definition of design to its max.
"That blurring is an essential part of these projects," he says. "I might ask a designer to create a piece of design but if you want to read it in a different way that's fine. You might see it as architecture or sculpture."
This year there will be a focus on design that can't be seen: sound. Evans was impressed by the "near-perfect acoustic experience" Arup is working on in its Fitzrovia basement. So he booked Trafalgar Square and commissioned five artists to create sonic responses.
Trafalgar Square as the setting for a perfect acoustic experience? "There's a constant barrage of sound," he admits. "Making sure visitors hear what they are supposed to hear has been the challenge."
So, inspired by the mysterious black object in 2001: A Space Odyssey — a film notable for its soundtrack — Evans and Arup created a "giant rubber-clad biscuit tin" inside which visitors will encounter the designs aurally.
The Sound Portal is one of four Landmark Projects in this year's festival. Another is Mimicry Chairs, a series of white tubular chairs installed throughout the V&A Museum by Japanese design and architecture studio Nendo.
Continuing the sedentary theme, 10 benches will be placed in the V&A's John Madejski Garden, each made from a different material by a different designer — including one in ceramic by Amanda Levete, Evans's wife and the architect of the museum's Boiler House Yard extension.
But the hottest ticket at the museum is bound to be Prism, an installation in its normally inaccessible octagonal cupola by Bartlett graduate Keiichi Matsuda. Visual interpretations of live data feeds from across London will be projected onto a suspended paper sculpture like a magic lantern.
A cocktail party at Willow Road will pay tribute to Goldfinger's famous soirees
The museum is also hosting a day of discussions with planners, politicians and architects including Daisy Froud of the AOC and Finn Williams of Common Office.
The V&A might be the hub but events are taking place all over London. This is How To Live explores the work of Ernö Goldfinger and William Morris in the homes they created to demonstrate their views. A cocktail party hosted by RCA graduate collective Manifold at Willow Road will pay homage to Goldfinger's famous soirees.
Elsewhere, the Architecture Foundation presents the first solo show of emerging Japanese architect Akihisa Hirata, while Chelsea College of Art & Design is displaying unseen drawings and photographs from the archive of Ralph Tubbs, architect of the Dome of Discovery at the Festival of Britain.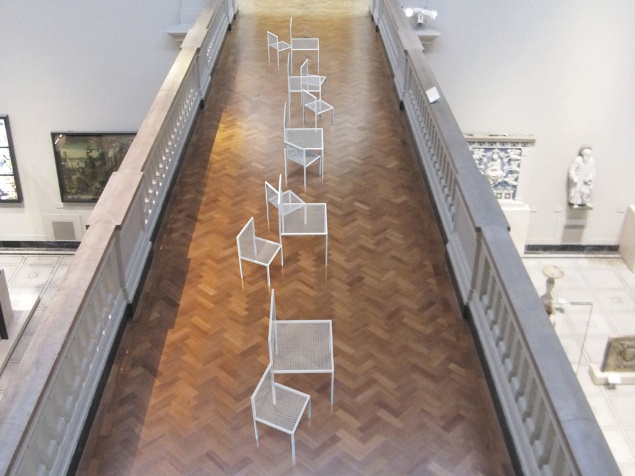 There is a free architectural cycle tour between Zaha Hadid's Roca London Gallery in Fulham and Earls Court, the venue for 100% Design. Speakers at the show include OMA's Ellen Van Loon, Lyndon Neri from Chinese practice Neri & Hu and Simon Woodroffe, launching his Yo! Home.
Another of the events running alongside the festival is the British Council's International Architecture and Design Showcase, with a residency by east African magazine Anza at Allies & Morrison and a Lina Bo Bardi exhibition.
Back within Evans's direct remit, this year will see the first Global Design Forum at Central St Martin's on September 18 where Thomas Heatherwick, Zaha Hadid, Kathryn Firth and Paul Priestman will discuss the future of design. Tickets are £300.
"Over the years we have been asked to do something about thought leadership but it's just another thing to do," says Evans. "This year we've taken the plunge with an action-packed day."
If you are beginning to wonder how you'll see everything, there's an iPhone app this year that should simplify the task.
Festival keeps on growing
When Ben Evans and John Sorrell launched the London Design Festival in 2003 they hoped it would take on a life of its own. They were right. It doubled in size in the first year.
The first festival had just 32 events but made an instant global impact. By year two there were visitors from 40 countries and copycat events planned in Shanghai, Buenos Aires, Hong Kong, Singapore, Melbourne and Copenhagen.
In year three 400,000 people came. In his opening speech future prime minister Gordon Brown praised it for "cradling the British genius".
In 2006 Tom Dixon gave away 500 chairs in Trafalgar Square's Great Chair Grab, and the Truman Brewery had 25,000 visitors in a weekend.
Ken Livingstone opened the 2007 festival, noting: "I would rather London be second in financial services and first in creative industries. No one comes to look at a city for its bankers."
That was the year the Landmark Projects were introduced and the year of the first London Design Medal — awarded to Zaha Hadid.
Despite the economic downturn the festival has continued to feature big-name commissions.