Hugh Davies
As software has developed, over time some applications have changed their file formats and others may have ceased to exist altogether
Make sure you're not storing up trouble
The continuous cycle of renewal and development in computer hardware and software is often cause for some aggravation. Having bought the latest technology or software your troubles may not be over. Access to data stored on outdated media or which used now superseded software becomes an increasing problem over time.
A quick check of your archive data will confirm the range of digital media that you may still be storing. Tape formats range from DAT, AIT or DLT in numerous versions of data capacity and the more recent like LTO (Ultrium). Removable cartridge-based disk-based media such as floppy disks, SyQuest and Zip disks have now largely died out. If you do have historic hard disk data storage, the interfaces may vary.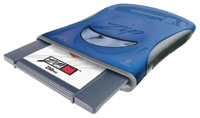 Having identified the range of media, you then need to check that you still have the hardware available to read it. Floppy drives have been dropped from the standard specifications of most computers for some time. Fortunately new external USB drives are available. Zip and Jazz drives have long been discontinued but if you have discarded yours you may strike lucky on eBay. Old external drives are unlikely to be USB so you may need access to a serial port.
Most new PCs use SATA or SAS internal drives. You may need to use an external disk caddy or a port expansion card to enable you to connect older IDE and SCSI disks. SCSI is still used as a hard disk interface but through time has come in a number of different flavours, so some care needs to be taken with selecting the correct interfaces, cables etc.
Where external or internal devices require specific drivers, trawling the internet can usually deliver the software, but be prepared for compatibility problems with newer operating systems.
Having access to a legacy PC can reduce such problems. It could be as simple as making sure you retain the best of one of your old workstations each time you buy new equipment.
Kept running with an older operating system such a computer will have a multifold purpose.The older operating system will aid compatibility with older device drivers and it will also provide the ability to run old versions of backup software or indeed the software in which the original files were created. Installing older operating systems as virtual machines on to new hardware using software such as VMware or VirtualBox will give you access to old software but won't make up for the lack of suitable comms ports.
As software has developed, over time some applications have changed their file formats and others may have ceased to exist altogether. AutoCad, miniCad, MS Office, WordPerfect, Vectorworks, FileMaker Pro and Retrospect are all examples of software that have evolved their file formats. Fortunately most applications retain import facilities for previous versions of their own file formats as well as import facilities from similar competing software packages.
However, this can sometimes be limited to supporting only the immediate preceding versions. Advanced computer innovations FileMerlin software (www.file-convert.com) is a potentially life-saving utility designed to convert a very wide range of text-based files into common file formats.
Lessen the pain of accessing old data by having a comprehensive audit of your old data media and the file formats it contains. Then consider rewriting the data to new media to reduce future problems. CDs and DVDs have been a fairly consistent for some time, but while they may last 10 years or more, only by refreshing the data onto new media each five years or so can you be confident that the data will be there for you to read if and when you need it.
Postscript:
Hugh Davies is a co-founder of IT consultant Lomas Davies