Morphosis Architects' cooling runnings at the Federal Building in San Francisco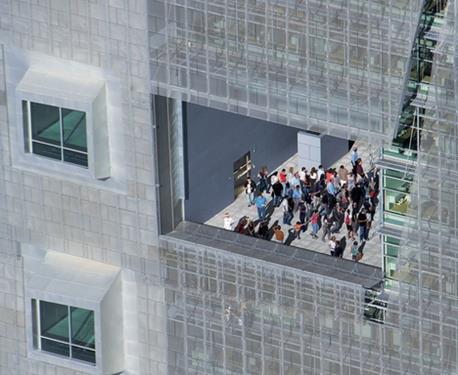 Morphosis Architects' US Federal Building in San Francisco uses concrete's thermal mass and natural ventilation
Morphosis Architects' US Federal Building in San Francisco uses concrete's thermal mass and natural ventilation as part of its strategy to cut carbon emissions while creating a comfortable office environment
The United States Federal Building in San Francisco is one of the first major US office buildings for more than 70 years to be naturally ventilated.
Above the fifth floor this building, completed in 2007 by Morphosis Architects for the General Services Administration, is naturally ventilated, providing high-quality workspaces that require only modest quantities of primary energy to create comfortable conditions.
The exposed internal concrete structure is a vital component in achieving comfort because it provides accessible thermal mass that can store energy on a diurnal basis.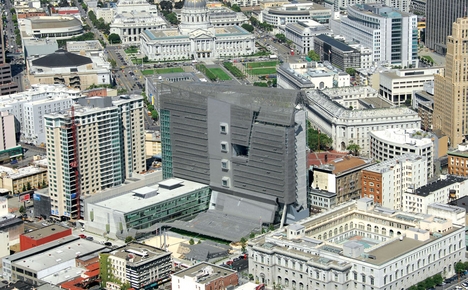 Thom Mayne, founder of the Los Angeles-based practice, observed: "When architecture engages social, cultural, political, and ethic currents, it has the potential to transform the world and our place in it. For me this project represents the epitome of an optimistic architecture, an architecture that synthesises its complex forces and realities into a coherent whole."
The Federal Building uses only 45% of a typical GSA office's energy consumption, and is being monitored by the GSA Energy Centre. It's highly significant that GSA is pioneering a low-energy office building since it administers all of the federal government buildings in the US.
The reduction in energy demand is primarily the result of three environmental strategies that are fully integrated into the architecture of the building: the maximisation of daylight, control of solar gain, and computer-controlled natural ventilation.
The naturally ventilated floors only use 86.9 kW hours per sq m per year. Given that lighting is typically the largest energy requirement of an office building, the Federal Building incorporates an 18-storey tower that is only19.8m wide to facilitate daylighting and cross ventilation. This, in conjunction with a generous floor-to-ceiling height of over 3.25m, enables 85% of the workplaces to be daylit. The offices also afford its occupants excellent views across San Francisco.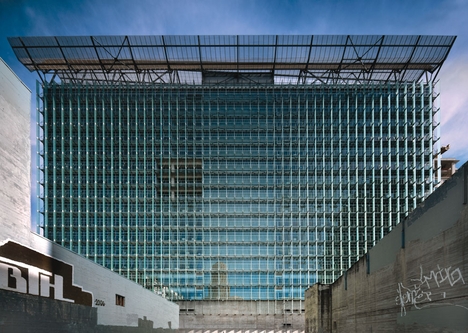 High-performance facades are also vital in saving energy while creating pleasant workspaces. The tower's south-east elevation is protected from excessive solar gains by perforated stainless steel sunscreens.
A double facade of fixed translucent glass louvres with an inner layer of openable, double-glazed windows forms the north-east elevation. The public architecture of the tower is generated by these climate-specific facades.
The offices feature wave-form exposed concrete soffits which provide thermal mass. The concrete is cooled at night by automated opening vents controlled by a building management system. In its use of exposed concrete to define the interior and provide thermal mass, this building has clear antecedence both to Bennetts Associates' Powergen headquarters near Coventry and Hopkins Architects' Inland Revenue Centre in Nottingham.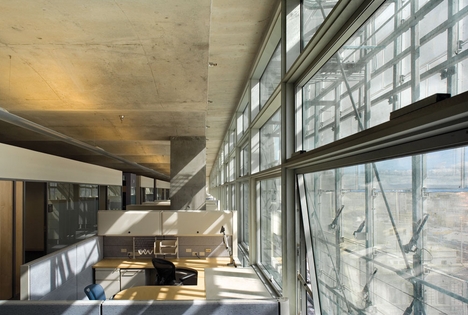 The cream-coloured concrete of the soffit is the result of using ground granulated blast furnace slag (GGBS) in the mix; it replaced 50% of the Portland cement. But the saving in embodied CO2 normally associated with the use of GGBS was limited in this case as it was sourced from Korea.
In the 21st century, humankind has the benefit of millenniums of construction technology that can be combined with digital design and the digital modelling of performance. Collectively, we have the means to make better architecture that serves our diverse cultures and helps sustain our planet. Concrete, an ancient yet radical material, has a vital role in sustaining human ecology.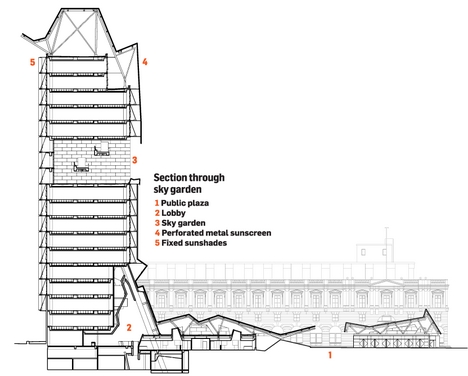 Ground granulated blast furnace slag
Iron by-product
With the aim of reducing the embodied CO2 of concrete, there is an increasing interest in the use of industrial by-products including ground granulated blast furnace slag (GGBS) and pulverised fuel ash.
GGBS is a by-product of iron manufacture. Molten slag is dragged from a blast furnace, rapidly cooled, and ground to a fine glassy white powder.
It is classified as a latent hydraulic material, meaning it has pozzolanic, cementitious properties. These are activated when GGBS is combined with Portland cement to initiate the hydration process. GGBS can comprise a maximum of about 85% of the cement mix, in accordance with BS EN 206-1.
Advantages
GGBS is not new, and was used in the Empire State Building in 1933. Its advantages include improved durability and resistance
to water ingress as capillary paths left by evaporating water are interrupted; low risk of thermal cracking; resistance to sulphate attack; whiter colours; and the deliverability of lower embodied energy.
Whiter concrete
GGBS was specified for the Jubilee line's Canary Wharf Station by Foster & Partners to provide an economical, whiter concrete which was vital to achieve good reflectance for concourse uplighting. Concrete using GGBS typically takes longer to reach full strength when compared to a mix based on Portland cement.
CO2 reduction
According to the Cementitious Slag Manufacturers' Association, over 2 million tonnes of GGBS is used as cement in the UK every year. By replacing the Portland cement this reduces annual carbon emissions by 2 million tonnes, reduces primary energy use by 2 million megawatt hours, saves 3 million tonnes of mineral extraction, and saves potential landfill of the order of 2 million tonnes.
The importance of thermal mass
Materials with high thermal mass such as concrete are capable of slowly accumulating, and slowly releasing, thermal energy. High thermal mass is a consequence of a high-density, high specific heat capacity, and relatively low thermal conductivity. Earth, stone and water also meet these criteria.
Using the thermal mass of building materials is known as fabric energy storage.
This can be employed to regulate temperatures within a building, minimising the need for energy-consuming air conditioning. Heat is absorbed from the sun, as well as incidental gains from people, artificial lighting and electrical equipment.
Internally exposed concrete will absorb these gains until it is balanced with the internal temperature, and then release the energy when the internal temperature drops — creating a lag and a reduction in peak temperature. The amount of energy it can store and the period of this lag-time are proportional to its mass.
For fabric energy storage to operate effectively, a strategy for absorbing and releasing the accumulated energy must be employed, or else the structure will simply stay averagely warm during the summer, and averagely cold during the winter. A lag-time of 12 hours will offset and significantly reduce the peak internal temperature.
Fabric energy storage can be controlled either by passive or active cooling methods. Natural ventilation is the basic method, and it can be controlled by automatic actuators linked to a building management system, as used in Morphosis's Federal Building. However, it is dependent on lower night-time external temperatures. Passive systems are suitable for gains of up to 30W per sq m, where natural ventilation can be used. Single-sided natural ventilation will operate at a plan depth of up to twice the floor-to-ceiling height, while cross-ventilation operates at depths of five times the floor-to-ceiling height.
Thermal mass and insulation perform different, often complementary, functions and should not be confused. Due to its density, a material of high thermal mass will usually have poor insulating ability, while a highly insulating material will have low thermal mass. Insulation blocks the passage of thermal energy; thermal mass absorbs it.
For concrete to absorb thermal energy efficiently, the internal surface of the concrete floor slab, wall or column must be exposed to the interior of a building rather than concealed by a ceiling or cladding material. This provides architects with aesthetic opportunities that relate directly to the holistic performance of the architecture. The shape and finish of a concrete slab can be manipulated to create maximum thermal absorption by increasing its surface area, while facilitating natural light. It is essential that the soffit remains exposed and visible to all occupants.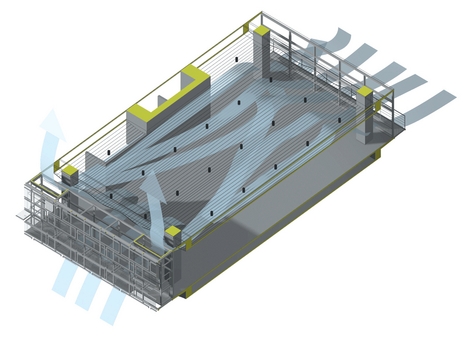 Airflow through a typical office floor of the Federal Building, which uses natural ventilation including cooling the slab at night.

Architect Morphosis Architects, Structural, M&E engineer Arup, Natural ventilation modelling Lawrence Berkeley National Laboratories, Quantity surveyor Davis Langdon, Construction manager Hunt Construction Group, General contractor Dick Corporation with Morganti General Contractors
Postscript:
Michael Stacey is a professor at the University of Nottingham and director of Michael Stacey Architects. His new book for RIBA
Publications, Concrete: a Studio Design Guide, will be published in the autumn.