House of straw brings a sustainable harvest
White Design's BaleHaus explores the use of prefabricated straw panels for mass housing
The BaleHaus was designed by architect Craig White of White Design as part of a multi-disciplinary research project by Katharine Beadle at the University of Bath's BRE Centre for Innovative Construction Materials.
The aim of this project is to demonstrate that straw is an appropriate form of insulation and structure for current mass housing. This probably explains why the house has been designed to meet Code for Sustainable Homes Level 4 and not Code Level 6 or "zero carbon". Code level 4 represents a 44% reduction of energy used and CO2 emissions when compared to current building regulations.
The BaleHaus is constructed from ModCell panels which are prefabricated from locally sourced materials; the panels have a timber frame and are filled with straw. This is then covered with a lime render. The timber frame takes the vertical loads and the rendered straw infill takes in-plane or racking loads. This structural principle was tested at the University of Bath.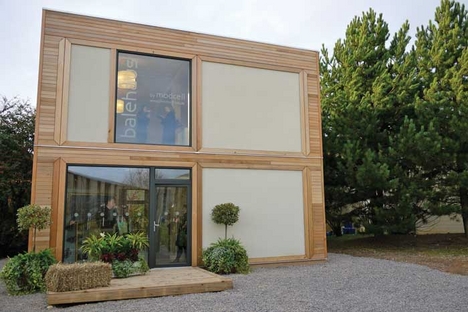 The ModCell straw panels are 490mm thick, achieving a U-value of 0.19 W/m2K. ModCell was invented by White Design and Integral Structural Design. They also produce a hemp-based panel which offers a U-value of 0.14 W/m2K, at the same overall thickness. Construction that provides good thermal resistance is bringing back depth into contemporary architecture, which can be
appreciated at window and door openings. The panel-based prefabrication of the BaleHaus means it can be readily relocated or its components reused.
The BaleHaus prototype is a detached pavilion-like property. But White Design has conceived it as being appropriate for use in terraced housing, which is inherently more sustainable in terms of both land use and energy. Although a prototype, this is not the first house or project to use straw bales. Earlier projects include Jeremy Till and Sarah Wigglesworth's 2001 house at Stock Orchard Street in north-east London, and the lime rendered Children's Theatre at the Centre for Alternative Technology at Machynlleth, in Wales, built in 2000.
ModCell's approach is to transfer this technology from one-off bespoke projects to a high-quality factory-produced component that is tried and tested. The straw is a by-product of wheat production and therefore food production is not being displaced.
Michael Stacey is professor of architecture at the University of Nottingham and director of Michael Stacey Architects.
Building with Bio-composites
An alternative approach to the use of grown fibres is demonstrated by bio-composites. Polymers are typically a by-product of petroleum production and arguably a better use of this ancient resource than burning it to fuel cars. It is possible to produce polymer resins from vegetable oil and combine this with grown fibres to produce bio-composites.
The University of Wales in Bangor is a leading research centre for the study of bio-composites, and it has created a spin-off consultancy simply called BC. One of its projects is the production of a thermosetting bio-resin from vegetable oil with Cambridge BioPolymers. Another of BC's research projects is the development of bio-derived plasticisers as an alternative to phthalates for use in the production of PVC, offering the same performance characteristics but without the perceived health risk associated with phthalates.
In 2005 the car manufacturer BMW used between 8kg to 13kg of natural fibres in the production of each car. Typical grown-fibre-based components in a BMW 3 series includes: door panels, boot linings and seat backs. Flax, hemp and kenaf are typical grown fibres used in car production.
Grown fibres offer a weight saving of about 10% when compared to glass fibre and they are more economical. Another advantage of grown fibres is the short growing cycle of under a year.
More information at www.bc.bangor.ac.uk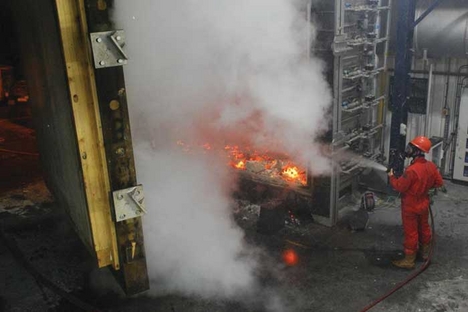 Monitoring performance
The BaleHaus was completed in September and will be monitored for a year. The research team at Bath have chosen to monitor an unoccupied house, however this means the vital issue of how a low carbon home is used by its occupants does not form part of this research.
The wild gains of occupants are being simulated by computer controlled light bulbs. The aims of the testing programme are to prove the durability of the straw and assess the overall performance of the house. Therefore 66 wireless sensors have been built into the panels to record temperature and relative humidity every hour.
Other key performance criteria have been evaluated in a test regime that includes structure and fire testing. Two ModCell panels used in the BaleHaus at Bath have been load tested at the University of Bath. A key aspect of this test was to establish the racking resistance of the panels. The design criteria for acceptable deflection were set at a height divided by 500. The panels were tested by applying a load via a hydraulic jack at the top corner of the timber frame. The three-bale-high panels successfully resisted at a load of 3.5 tonnes and only deflected by 3.8mm, thus the design criteria were achieved. The two-bale-high panels were only able to sustain a load of 1.6 tonnes.
Katharine Beadle observes: "The results from these tests confirm that ModCell panels are more than adequate to resist the in-plane loads required for the BaleHaus, where two and three-bale panels are used together on the ground floor facade."
The panels on the house itself will also be subjected to shear racking and vibration tests.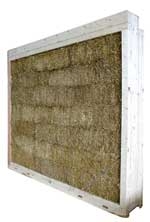 One might expect a fire test of a straw-based panel to be an even greater challenge. A 3,000mm by 3,000mm rendered panel, 490mm-thick and filled with straw, was tested by Chiltern International Fire to BS EN 1364-1: 1999.
The temperature of the furnace was gradually raised to 1,000°C in accordance with this test procedure. During the test the opposite side of the panel had to remain at 60°C. After 90 minutes the lime render started to fall away exposing the straw, which charred yet withstood this intense heat for a further 45 minutes. The test was stopped after two hours and 15 minutes.
ModCell straw panels have a fire rating for integrity, stability and insulation of over two hours.
Tests that will be undertaken in this research programme include an air-tightness test, and an evaluation of thermal lag and acoustic testing of the house. Bath University intends to place these results on its website, www.bath.ac.uk/ features/balehaus
This will happen progressively until September 2010, as each test is undertaken and evaluated.