Hayhurst and Co's remodelling of the Pegasus Academy in Croydon brings together years of piecemeal architecture into a coherent whole
Most new architecture doesn't actually involve new buildings. In a society such as ours, with an established building stock located within what is often a historically conceived urban fabric, architecture is more often than not an exercise in accretion rather than creation, an evolutionary, cumulative process that sees each generation leave its mark in the addition and adaptation of existing buildings.
Residential architecture provides the best demonstration of this principle. In 2050, 70% of today's homes will still exist. Most people have redecorated their homes at some point, some may have extended them, few have rebuilt them.
Education too is another sector where new structures are often forced to integrate with old. Of course some schools are brand new but the majority more commonly experience periods of incremental intervention where portions of fabric are replaced, reconfigured or expanded.
One of the latest examples of this approach is the new £4.2 million Pegasus Academy Trust in Croydon, south London. The building presents a veritable kaleidoscope of ad hoc architectural styles and accumulation over the past 150 years: Victorian board school core, functional 1950s remodelling, insipid 1990s extensions and now, courtesy of architect Hayhurst and Co, significant, contemporary new wings.
But this project is more than an extension alone. Hayhurst and Co identifies itself as a growing generation of architects who are yet to design an entirely new building but instead have developed a nuanced craft for adapting existing building stock. Previously associated with designing house extensions, it won the commission for this project on the basis of prior work it had completed placing new accommodation within an existing void in the same school.
Therefore the firm's latest work on the academy is not merely an act of addition but reinterpretation. It develops a new architectural language that stitches the school's disparate parts together and also gives it a new civic identity that allows it to engage more openly with its local community. In so doing, the school's empathetic new design philosophy allows it to address and resolve contextual challenges that will increasingly face our wider school and building stock as a whole.
Approach
Pegasus Academy was formed in 2011 with the amalgamation of Whitehorse Manor Infant and Junior Schools. Both schools were located on the same site in an interconnected series of 19th- and 20th-century buildings. The most architecturally distinctive buildings on the campus were the single-storey Victorian wings located at either end of the site. Both of these display the ubiquitous architectural palette of gable roofs, brown/red brickwork and tall windows that are synonymous with the board school style.
In proceeding years, a jumbled assortment of various largely ancillary buildings had sprung up between the two blocks, essentially segregating the two schools. These intermediary buildings included a kitchen wing and a bin store. The problem was worsened by the fact that as the central area faces directly on to the adjacent main road, the school's principal entrance frontage was largely occupied by unsightly back-of-house accommodation.
Executive head teacher Jolyon Roberts describes the school's former problems thus: "The central service buildings segregated and divided the school. The fact that the kitchens were topped with a corrugated plastic roof meant that the frontage we were displaying to the outside world was inappropriate. Also, staff rooms were spread out in various different parts of the school and classrooms were generally too small. Suspended ceilings had been installed in most of the high-ceiling Victorian rooms which restricted daylight and led to a more claustrophobic atmosphere."
Hayhurst and Co's design approach was to "bring together a fragmented site with a series of interventions and extensions that thread new teaching spaces through a complex arrangement of existing buildings." A key component of this strategy was "to create a new identity to the street" and it is this new identity that is the most visible public face of the school's transformation.
The design sees some of the ancillary buildings located between the two Victorian blocks swept away and replaced by a continuous new wing that consciously connects them for the first time. But, as architect Jon Nicholls point out, it wasn't a question of simply "demolishing everything that had been on the site previously, even if the budget had allowed for it". Instead it was more a "careful and considered approach that sought to reuse existing accommodation where possible and weave the new building into the fabric and character of the old".
Frontage
On the entrance frontage, this is achieved by the new block assuming the same height and proportions as the Victorian block at one end and maintaining and modulating this historic roof pitch line right across the full frontage of the new building. The centre of the block is punctuated by a gated opening that forms the new main entrance to the school via a new courtyard beyond. This central break in the elevation is replicated at first floor level by punched openings into a planted steel pergola beyond and at roof level, by a lattice of thin openings dramatically sliced into the surface.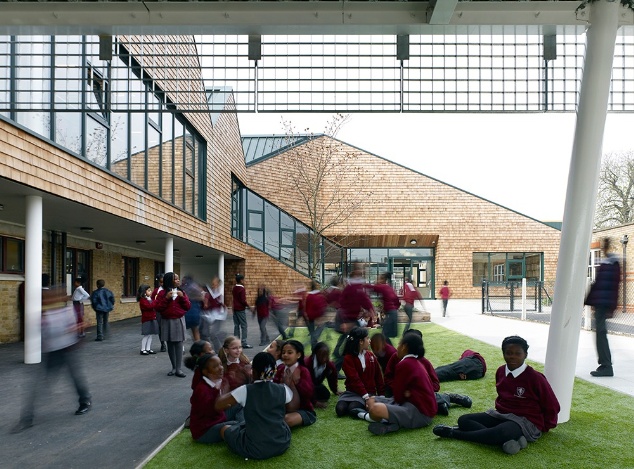 The entire facade is clad in TECU gold, a shimmering copper alloy that is an oblique tectonic reference to the standards of excellence pursued at the academy - Pegasus is Croydon's highest-performing school.
But more intriguingly, and frankly more convincingly, is the civic aspiration behind the choice of TECU gold cladding which Roberts begins to explain. "This part of Croydon may not be the most affluent part of London but it actually has a proud heritage of civic buildings such as the library and station. We wanted something that makes as much of an impact and plays as visible a role in the community role as them."
Nicholls continues: "It was also important to have the facade suggest that the building is open and inviting. The demographic of the area means that traditional civic architecture may not seem instantly accessible to everyone but we wanted something that definitely was."
Contemporary architecture is consistently guilty of hijacking materials to propagate spurious simplistic symbolism; glass means democratic, wood means green, concrete means honest etc. However, the Pegasus Academy's new frontage is redeemed not so much by its material but by its massing and articulation, it is a bold, sweeping new volume that quite literally glues the school's fragmented pieces together.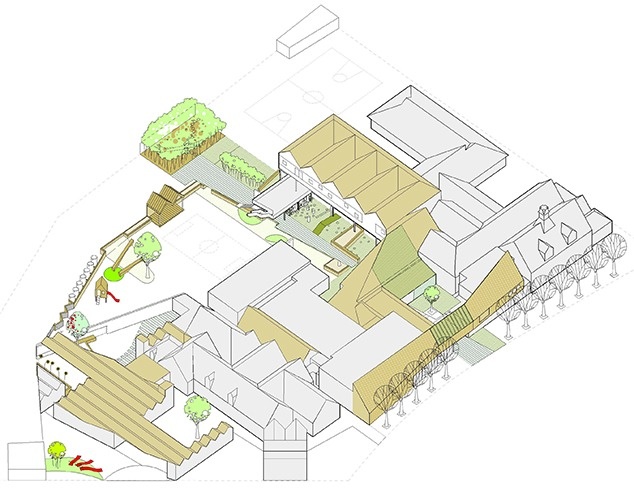 Moreover, it reveals a subtle interplay between solid and void that is far more suggestive of new intervention than any amount of ostentatious alloy could ever hope to be. The facade sometimes fronts new accommodation, but in other instances it is merely a veil for open recesses or, as in the case of the infant school hall, existing buildings. It thereby becomes an active, unifying screen for the building whose openings reveal the variety of interventions that have taken place behind it.
Roofscape
There is however, much more to the school than a new frontage. Nicholls reveals that a core intention of the design was to "build on the character of the existing Victorian school buildings", and it is behind the new frontage where this ambition becomes evident.
The architects have adopted a site-wide design approach that sees their new areas conceived as a series of room-scale pitched roof extensions which they describe as a "responsive roofscape". This new roofscape is directly derived from the pitched roof aesthetic of the Victorian wings and it is expressed as groups of saw-tooth pitches which all comply with a newly established hierarchy of scale.
Roofs to new nursery areas have the smallest pitch, roofs to break-out spaces and junior classrooms have the intermediate-sized pitch and roofs to communal, community and hall areas (such as the frontage) have the largest pitch.
Externally the result is a vibrant new internal streetscape whose dynamic roofs do indeed add the visual coherence, control and legibility lacking from previous piecemeal extensions. The almost Lilliputian scale of the smallest nursery pitches adds an animation and intimacy that one imagines might appeal to the toddlers who will inhabit its interiors and the wise substitution of TECU gold with cedar shingles on these rear spaces also adds a communal sense of warmth and enclosure.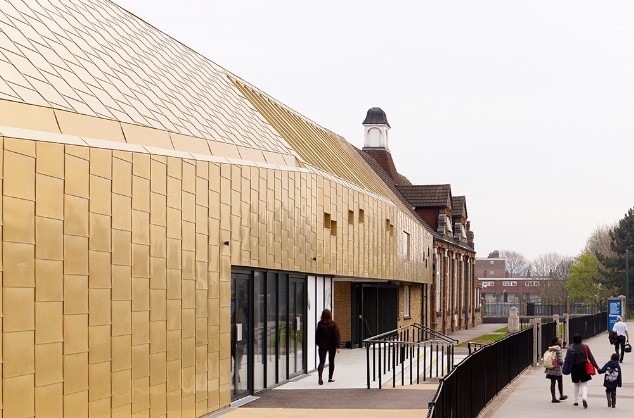 Again, the architect's contextual sensitivity and its judicious approach to what is retained and replaced is in evidence. The pitched new junior classrooms wing is built on top of a single-storey 1980s block but the two are entirely structurally independent.
"It's an urban site and space is at somewhat of a premium," explains Nicholls, "so as we couldn't build on external play areas, in this instance we had to build above an existing block. But in order to avoid imposing additional structural loading on it, the first floor straddles it with columns on either side. Additionally, it is partially suspended from a new structure built into the apex of the roof pitch."
Internally the external roof aesthetic is also expressed in lofty pitched ceiling spaces lined with continuous strips of larch which bestow a soft, almost domestic atmosphere. Classrooms and corridors are surmounted by east-facing skylights cut into the roof which flood the interiors with daylight.
Seven new classrooms have been provided and five have been remodelled. Classrooms themselves are large and flexible, up to 60m², and separated from wide corridors and break-out spaces by glazed pivot wall panels that enable both spaces to flow into one. Roberts is implacable in his support for bigger classrooms as a pedagogical principle: "they provide less opportunities for negative interaction among pupils, the bigger the classroom, the better the learning and behaviour."
So what then of the current political approach to school construction, which, as expressed in the Priority School Building Programme, proposes a more standardised approach? "It wouldn't have worked on this site," insists Nicholls, "with all decision-making about what had to be retained and replaced and the stitching together of old and new on such a complex site, we had to have a traditional contract along with the design control and client involvement that that provides."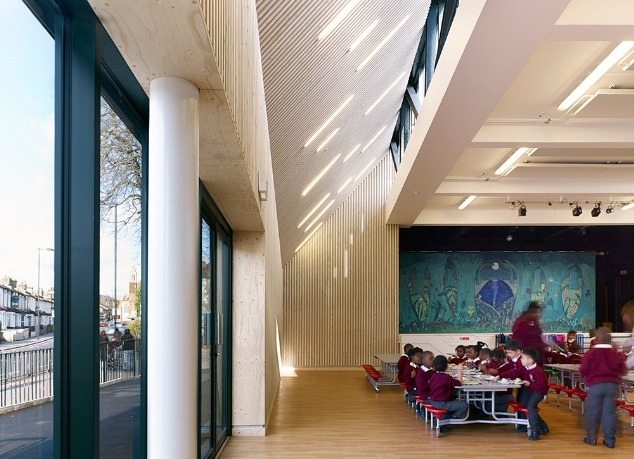 Project team
Architect Hayhurst and Co.
Client Pegasus Academy Trust on behalf of the London Borough of Croydon
Main contractor Kier Wallis, Morgan Sindall
Structural engineer Ian Wright Associates
M&E engineer Edward Pearce