Despite a spiralling budget and uncertainty over its legacy, Populous's Olympic stadium emerges as a lithe all-rounder.
Stadiums are strangely divisive structures. They are powerful megalithic objects that stir even those least interested in sport to have a vociferous opinion. They are often bubbling cauldrons of controversy, vast public works that grind on through national embarrassment, mired in escalating costs and long delays.
Olympic stadiums bear the particularly brutal brunt of expectation, with all hopes vested in their talismanic role, as the symbolic kernel of the host nation's sporting ambition. Raised under the harsh glare of international attention, they are briefly exposed on the global stage in a euphoric two week orgy, only to be discarded in the wake of the fleeting funfair, consigned to history as a memory of what once was.
The main stadium for the London 2012 Olympics has had a typically bumpy ride. Unveiled in 2007, as Herzog & de Meuron's majestic Beijing bird's nest was nearing completion, it was greeted with a collective sigh, immediately seized on as another victory of east over west. Variously accused of being "wilfully lacklustre" (Jonathan Glancey in the Guardian), and "like something from Ikea, fit for a garden party" (Tom Dyckhoff in the Times), it was generally agreed to be another national humiliation, in line with the fiasco of Wembley. Gone were the dynamic sinews of Foreign Office Architects' bid-winning scheme, which had risen from the winding waves of its park like an alien creature, taut with the energy of rippling muscles. Instead, glowing in a rendered mist of beige, this looked more like a stunted gasometer, a dreary vision in Meccano-lite.
For something that looked so cheap, it was even more surprising that the budget had mysteriously mushroomed from £280 million, forecast in the original bid, to £496 million, rubbing further salt into the wound as Beijing's stadium was achieved – although material and labour costs were incomparable – for around £250 million.
The next three years were peppered with further trials and tribulations. The bid had been predicated on a lasting legacy for east London, with stadiums designed to be quickly demounted to make way for development – sport hailed as the catalyst for a new piece of city. But with the financial crisis came the sudden realisation that developers might not be queuing up to build out the planned utopia of glistening perimeter blocks after all. Fearing a future of vacant, fenced-off plots, the Legacy Company decided it might make more sense to keep these temporary venues in use for a bit longer. Dreamt up in the rosy boom time, the plan was hastily re-hashed to suit the emerging climate of chastened austerity. As is so often the case with behemothic public works, the ideology in which the venues were conceived had been superseded before they were even finished.
Given this bleak, inauspicious context, it is startling that what now stands at the tangled crux of the Lea Valley, perched on an island where the River Lea splits into the City Mill River, is of such compelling clarity. It is a powerful example of how renderings – particularly those projected from an imaginary bird's eye view and filtered through a pastel haze – are not to be believed.
A bright white exoskeleton enveloping a darker, ribbed world within, it is an image of pared-back simplicity. Slender diagonal columns, subtly canted outwards, rise from small concrete nodes to a serrated crown, where staggered layers of triangular crenulations march around the bowl, carefully balanced at different angles. From a distance, with its crisp white petals outlined against the horizon, it looks like a wireframe water lily poised halfway through opening up. A network of almost invisible wires weave back and forth to hold these elements in fine balance, and there is something decidedly yachty about the whole concoction – reminiscent of Moxley Architects' ExCel Centre and other rather dated attempts to prolong the language of hi-tech. Behind the columns, a radial fan of black-painted steel rakers supports the exposed concrete underside of the seating terraces, bolts and flanges on show for all to see. And there is nothing else in sight. For an 80,000-capacity venue, it all seems impossibly lean.
It looks like a wireframe water lily poised halfway through opening up
The reason for its slimmed-down, skeletal form comes from the nature of the original brief, given to Team Stadium back in 2006. The winning consortium of Sir Robert McAlpine, Populous and Buro Happold – which had previously worked together on Arsenal's Emirates Stadium and the O2 Arena conversion – was charged with providing a permanent 25,000-seat stadium, with an extra 55,000 capacity temporary structure for the Olympics. Post-games, this would be dismounted, flat-packed and potentially resurrected elsewhere, in line with the lean, green agenda that had secured the London bid.
It was to be a model of transitory design, on a scale only ever dreamed of in Archigram's visions of ephemeral urbanism – in their elaborate floating caravanserais and plug-in structures for future urban nomads. It therefore seemed only logical that Peter Cook should be invited to join the team.
"If it is a temporary condition, then you can take advantage of that in the same way as when the circus comes to town," said Cook in an interview in 2007. "In a way you could say Instant City is, intellectually, the model." Working with Populous on a weekly basis, Cook promised "a really chirpy solution" – although, following completion, he has since declined to comment. Whatever his influence, the team confirm that their epiphany came when they collectively signed up to "embrace the temporary", the driving mantra behind the whole design.
The temporary programme led them to disaggregate the stadium into its component parts and distribute its "softer" ancillary functions elsewhere, leaving only the bare essentials of structure.
"We have managed to avoid the usual clutter of entrances and turnstiles around the ground-floor elevation, thanks to siting the stadium on its own island podium," says Philip Johnson, project architect from Populous. The island site means that security and accreditation can be expediently banished to the perimeter, where five bridges cross the surrounding moat. The original brief included a 6m-high fence but now, as Tony McLaughlin of Buro Happold jokes, "we have our own watery ha-ha".

The broad bridges – to be slimmed down in legacy mode by removing large sections – cross from the park to the expansive raised podium on which the stadium sits. This meandering tarmac skirt will soon be populated by a "pod village", comprising all of the exiled hospitality facilities, from cafés to merchandise shops, housed in brightly coloured Smartie-like blobs. Back of house functions are conveniently swept beneath the podium, a natural 6m incline across the site allowing public access at concourse level from the north and east, and VIP/service access from the south and west at the lower undercroft level.
The combined strategy of podium and pods is what allows the stadium bowl itself to be quite so compact, lacking the endless layers of hospitality services that usually crowd the perimeter and raise the height of the upper seating levels. It is unique, of its size, for only having one concourse and a completely permeable structure, with 56 entrances that bring you directly to the upper level of the sunken bowl on one continuous plane – making it one of the most accessible stadiums ever designed. It also has one of the smallest footprints – neither the Sydney stadium, nor Wembley, would fit on the site.
All necessary support spaces, including changing rooms, doping control and a 60m-long call track, are housed under the western stand, the outer facade of which supports a boxy black limpet – the media and hospitality pod of VIP suites and a 400-seat restaurant, accessed by a series of jaunty criss-crossing escalators. Similar moments of fun are found in the toilet hubs around the perimeter, matt black blocks lined with lurid colours that match the rainbow of tinted glass balustrades at each entrance, a strategy developed in collaboration with artist and colour alchemist Sophie Smallhorn.
Smallhorn is also collaborating on the hotly contested and highly secretive "wrap", the long vertical fins of PVC fabric that will be suspended behind the diagonal columns, white on the outside and coloured to match the spectrum within. Twisted 90 degrees along their length, they will signal the entrances and also mask the exposed undercroft, although there is a danger that they will detract from the current crisp clarity of the white steel picked out against the darker interior. Momentarily banished by budget cuts, the wrap has since been reinstated through private sponsorship by Locog, the agency responsible for dressing the park – and in fact the city itself – in the official "look of the games", a cacophony of fluorescent shards. To her credit, Smallhorn has somehow tamed the brash brand identity into a surprisingly successful treatment.
Within, the stadium bowl is just as lean as the exterior shell. A wafer-thin cable net roof, free of the hulking retractable apparatus of Wembley, is stretched taut to cover the top tier of seats, while slender triangular lighting rigs are suspended overhead – soaring 30m above the roof level, at which height the Beijing stadium is still a looming tangle of steel. The shallow raking and stripped-back profile of the single upper tier makes the whole thing feel remarkably intimate for a venue of this capacity – almost lacking the grandeur one would expect from an Olympic epicentre.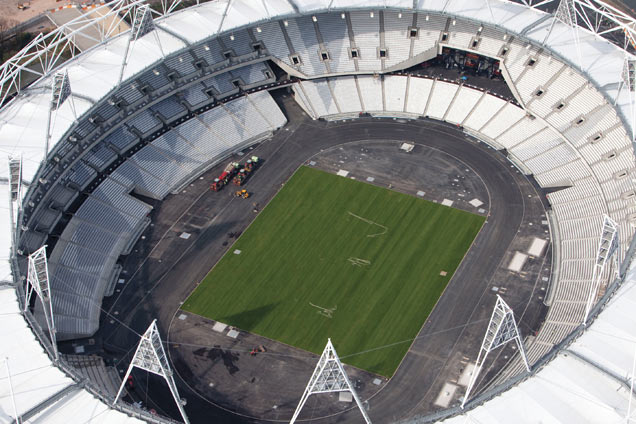 Source: Anthony Charlton/ODA/London 2012
For all its apparent simplicity, to achieve such a minimal solution was a fiendishly complex task. An 800m-long, 15m-high compression truss encircles the perimeter, from which steel cables connect to an inner tension ring, with the lighting rigs and "ceremony tripods" – to support Danny Boyle's opening extravaganza – all held in careful equilibrium. "Think of it like a bicycle wheel," says Rastislav Bartek of Buro Happold. "The ring beam is like the rim, the steel cables are the spokes, and the tension ring is the wheel spindle." A 450-tonne elliptical spindle, that is. The roof itself is a PVC-coated polyester membrane, stretched between the cables, its peaks and troughs "form found" according to the forces at play – and weighing only 2kg/sq m, including fittings.
McAlpine's project director, Tony Aikenhead, explains how the tension ring was built on a temporary scaffold and raised into place on cables hung from the compression truss, by 56 computer-controlled jacks over a period of six weeks – the tension forces pre-calculated for every stage of the lift. The 14 lighting towers, 28m tall and weighing 34 tonnes, were then hauled into place by a super-crane, held with vast temporary stays, belying the fact that they now hang effortlessly from two barely visible 25mm cables. Once in place, the whole structure was laser-scanned to generate a 2 billion-point digital model – which was miraculously found to be within 30mm tolerance of the original theoretical model – a tribute, as the architect, engineers and project manager keep reiterating as they shower praise on each other, to the unprecedented level of integrated teamwork.
For all the precision engineering involved, there is a refreshingly English attitude at play beneath the slickness, in line with the "make do and mend" spirit of the 1948 Olympics. At a stage when all of the construction drawings for the steel superstructure had been made, the supplier discovered an alternative cheaper source: a hoard of unused gas pipes, "found in a field in Yorkshire," grins Aikenhead. They were slightly larger in diameter, and shorter in length, but had the same structural properties. After extensive testing, the drawings were changed accordingly and the gas pipes now stand in place, providing all of the visible white structure, 30% of the total steelwork – and adding another chapter to the bulging sustainability story of this recycled and recyclable machine for playing in.
Throughout my tour of this essay in structural efficiency – which is, without question, an impeccable response to the brief – there is a rather awkward elephant in the room, a hulking great beast trying desperately hard not to be noticed. For all Team Stadium's ingenuity, the critical question remains: whether the brief, which they have delivered to the letter, was fundamentally flawed and recklessly embarked on without a clear idea of what the stadium would be used for after the games.
Ian Crockford, who has project managed the stadium at the Olympic Delivery Authority since 2006, insists that it was "too huge a commitment" for potential bidders and that it "didn't work for business" to plan so far ahead. The tight timeframe, he argues, simply did not allow for securing a permanent tenant in advance – the same excuse used to justify the lack of an architectural competition. Instead, extensive consultation concluded with a "flexible, catch-all solution", to be procured from an integrated team with a built track-record, a legacy stadium that could accommodate athletics, football, cricket, rugby, concerts and community uses. But the decision was also a political one. Despite the committed enthusiasm of West Ham from the outset, the idea of a football team taking up permanent residence was anathema to Lord Coe, who had always promised a long-term legacy for athletics at the heart of the bid.
Even as late as 2009, the Legacy Masterplan Framework declared that the stadium would be demounted and "a new mixed-use building will wrap around the bowl and become a strong presence in the park …. [with] a new education facility and primary school". Plans showed a thickened, mix-programme edge, embraced by a mythic field of housing.
And yet, this year, after extensive expressions of interest judged against the harsh realities of the market, it was concluded that the only two viable tenants for the legacy stadium were in fact football clubs – a highly politicised battle finally won in February by West Ham and Newham. Ian Tompkins, project director at West Ham, is confident that they can make the stadium work for football and a host of other uses, to "provide a long term benefit for the east London community".
West Ham's list of requirements could easily have been built in from the beginning
But their plans to roof the whole seating area and add the required hospitality functions imply a substantial change to the structure and a conversion cost of at least £95 million. There are several precedents, such as Paris's Stade de France, of stadiums being future-proofed with retractable seating over an athletics track, and West Ham's proposed list of generic requirements could easily have been built in from the beginning, rather than be clumsily retrofitted to a temporary structure. As Crockford – who was also project manager on the apparently "temporary" London Eye – now admits, "temporary was probably the wrong word to use".
How well West Ham players and fans adapt to playing inside an athletics track remains to be seen. The Barcelona team, Espanyol, has moved out of its Olympic stadium after years of frustration, as did Bayern Munich in 2005. But, for now, optimism reigns. "The stadium is likely to evolve over time," says Aikenhead. "There will not be one quick-fix solution."
Just as the Colosseum famously accommodated many later uses – from houses and workshops, to chapels and a cemetery – so too will this steel skeleton begin to accrue different functions and provide a support structure for other activities. Given that, before the Olympics, the site played host to printers and mechanics, artists and salmon-smokers, as well as the largest church congregation in Europe, there is at least little chance that it will ever be left empty.
Project team
Architect Populous, (formerly HOK Sport), Client Olympic Delivery Authority, Structural and building services engineer Buro Happold, Landscape architect Hyland Edgar Driver, Planning consultant Savills Hepher Dixon, Main contractor Sir Robert McAlpine