RIBA's new bim overlay signals a tipping point for the industry
As bim revolutionises the way we work, a new process map is required
Building information modelling is a game changer for the design, construction and operation of buildings, and the RIBA is recognising this by introducing a bim overlay for its Plan of Work. Far more than just the computer hardware and software of a 3D cad system, bim is a whole new approach in the way that architects function and relate to their clients, fellow design team members, suppliers, constructors and building users.
The traditional procurement and contractual system assumed a trial by error process. The design information could be wrong and incomplete, the building process messy and inaccurate and the outcomes unpredictable and variable. Risks had to be managed and, if possible, transferred to others. Hence the popularity — and inappropriate use — of D&B and PFI procurement systems. Also the reliance on low bids to win work, encouraging a change and claims culture for contractors and consultants to make their profits.
Both Egan and Latham in their reports came up with good ideas of how to improve things, but they didn't have much traction, as the holy grail of integrated and collaborative working didn't have a workable mechanism to test ideas and solutions virtually and to engender joint responsibilities for problem solving in a low-risk way.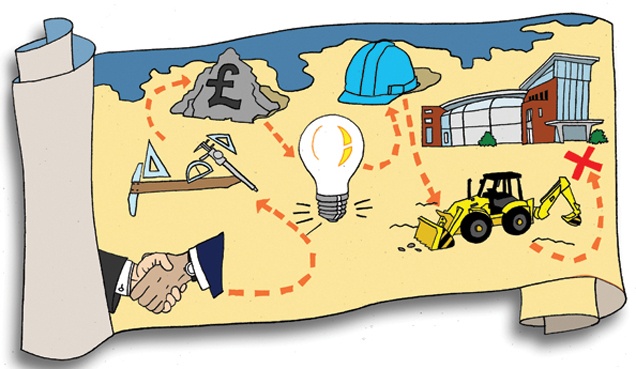 This is where bim can come to the rescue — and is here to stay, whether we like it or not. The current challenging times for global economies — along with the need to deal with scarcity of energy, resources and finance, and urgent carbon reduction — have made it necessary to quickly make our construction more effective, cost-efficient and better performing, forcing the use of integrated supply chains and collaborative working.
At the same time, the supporting information technologies are becoming better developed to be able to deliver the basic concept that underlies bim: an integrated database of rich design data incorporating geometric, specification, performance and cost parameters. A tipping point has been reached.
The government has forced the hand of the UK construction industry by demanding the use of bim on larger-scale public sector projects, and the private sector is now following suit.
This new way of working requires a new process map, therefore the RIBA has prepared its Bim Overlay to the RIBA Outline Plan of Work (which
can be downloaded free. It also provides straightforward guidance to help architects, design teams, contractors and clients to successfully design and manage construction projects in a bim environment, using the familiar framework of the RIBA work stages.
The RIBA, RICS, BSRIA, CIAT and others are now working together through the Construction Industry Council on a joined-up pan-industry plan of work and schedule of services that embraces bim, which is due for completion in 2013.
BD has also published a useful Bim White Paper, which provides insights from industry experts on how to cut through the confusion, anxiety and excitement about bim, enabling readers to enhance their service offer to clients.
Postscript:
Disclaimer: This column is for general information only. It should not be relied on or treated as a substitute for specific legal advice relevant to particular circumstances. Neither BD nor the contributors' employers accept any responsibility for the personal views expressed in this section.