Rendering can help build a better picture
Photorealistic rendering of computer models is increasingly an essential part of an architect's presentation armoury.
Once the sole preserve of specialist visualisation companies, the technology and skills for photorealistic rendering are increasingly found in an architect's office.
However, photorealistic rendering requires significant time or processing power to complete a high-quality render. Ordinary cad workstations may not be sufficient so additional steps can be taken to improve performance. Most cad packages now contain built-in rendering capabilities that can achieve impressive results.
When looking for a dedicated high-end rendering software program, Autodesk's 3ds Max (formerly 3D Studio Max) is a popular choice.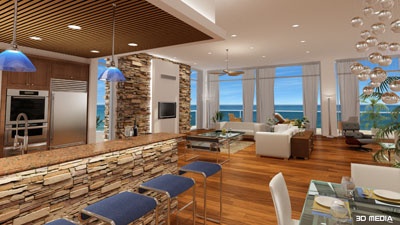 Its system req- uirements state that it can run on Windows XP with 2GB ram and a 1.4GHz Pentium 4 processor and a suitable 512MB graphics card. In practice, such a combination is likely to be painfully slow. On a standalone machine, you should be thinking of Windows 7 64-bit, dual six core processors with 24GB ram and a mid to top of the range graphics card.
Although 3ds Max has its own modelling tools, some visualisation artists use third-party products such as Form-Z or even SketchUp to create the wire frame model. Models created as part of the architectural design process may be used directly to produce renders but may not always suit the purposes of a rendering artist. Don't be surprised if the model gets either torn apart and rebuilt or even redone from scratch.
When it comes to performing the rendering, the simplest option is to perform the render with the built-in 3ds Max engine. Alternatively, you may have upgraded the software with a third-party plug-in, such as V-Ray. Renders can either be performed on the local machine, or additional computers can be harnessed to improve rendering speeds.
V-Ray comes with a free distributed rendering tool, which allows additional computers to simultaneously contribute to performing the render. Useful if you want to perform small test renders quickly on a spare workstation.
To perform a batch of renders overnight there is a free tool within 3ds Max called BackBurner. This allows queuing of renders either on both the host machine and additional spare workstations or exclusively on other machines allowing the artist's machine to be freed up for more productive work. This type of arrangement is referred to as a render farm.
A render farm could be seen as an effective way of putting unused workstations to work. But before getting excited about pulling the old machines out of the IT cupboard and booting them up, do remember that rendering is both ram and processor-intensive. If the machines that constitute your render farm are too low powered, you will have increased power consumption, a lot of fan noise and slow renders.
If time-critical high-quality renders are important, you may need to consider dedicated render farm technology. This usually consists of rack-mounted processors deployed within your communications cupboard. These can be configured with variable numbers of processors to match your requirements and budget.
BlueGFX and Escape Studios are two specialist companies that can provide specific advice for the procurement of such render farm technology. Typically, you might employ a high-end render farm management software, such as Deadline, to improve render queue configuration and management.
Render farm hardware works very hard when put to work. The data cabinet that a render farm is installed in would typically need to be in a sound-attenuating room with some form of air conditioning unit to avoid heat build-up.
If all this seems a bit over the top and your demand for rendering is in short periods of intense activity rather than continuous use then an alternative is to consider cloud- based rendering.
Autodesk 360 provides this kind of service for 3ds Max users. The first 75 hours are free of charge to Autodesk software users, after which it becomes a paid-for service. Alternatively, there are third-party solutions, such as Render Rocket. It supports a wider range of render software, which includes Maya, Cinema 4D and Maxwell. Render Rocket pricing starts at 43p per hour with discounts if you bulk-buy render credits.
Postscript:
Hugh Davies is co-founder of IT consultant Lomas Davies