Government admits Olympic marketing ban won't be relaxed for months
Angela Brady pleads with Sebastian Coe to step in
The Government has admitted it is not even trying to have the Olympic marketing ban overturned until the end of the year.
It said its negotiations with the British Olympic Association (BOA) and International Olympic Committee (IOC) will carry on into the autumn, once their immediate focus on the Games is over.
RIBA president Angela Brady denounced the admission as "totally wrong" and vowed to keep on fighting for Olympic architects' right to promote their work.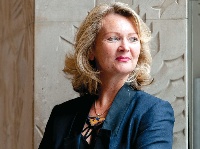 She has written to Sebastian Coe, an honorary RIBA fellow, and John Armitt, chairman of the Olympic Delivery Authority (ODA). The latter produced a report at the start of July recommending the restrictions be relaxed as soon as the Games are over.
"They [Coe and Armitt] are my last hope," Brady told BD. "If Seb Coe can't overturn it then no one can.
"I met him at an Olympic reception at the Irish Embassy six months ago and he said, 'If there's anything I can do, Angela…'. Well there is and I've told him so.
"The end of the year's no good. All eyes are on London right now. I want the architects to be able to stand proudly in front of their buildings and talk about them to international TV crews.
"These rules are against the whole spirit of the Olympics. Crushing the small guy is just not on."
Earlier this week Brady and New London Architecture chairman Peter Murray persuaded culture minister Ed Vaizey to don a T-shirt emblazoned with the names of all the practices at a function at the British Business Embassy. Brady also hosted a briefing for international journalists with Olympic architects at the RIBA this week.
The Government statement said: "The building of the Olympic Park and other Games venues for London 2012 has been a great success story for the UK. We understand and support the reasons why restrictions have been in place to protect the marketing exclusivity of London 2012 sponsors.
"Government, however, is committed to working with relevant partners, most notably the BOA and through them the IOC, to find a way to ensure that contractors and sub-contractors can seek a form of recognition of their superb contribution to the Games to support them in competing for new contract opportunities.
"DCMS is in discussion with the BOA and hopes to have a workable solution in place through which supplier companies can make reference to the work they have undertaken by the end of 2012. The discussions will run into the autumn given the immediate focus of both the Government and the BOA/BPA on delivering a successful Olympic and Paralympic Games."