40-storey Macau marvel features 'world-first' free-form high-rise exoskeleton
Zaha Hadid Architects' arch-like Morpheus Hotel at Macau's City of Dreams resort has opened for business.
The 780-room building, which came with a pricetag of US $1.1bn - £830m at today's exchange rates - features a seven-storey atrium and is essentially two internal cores connected at the podium and at some of the middle and upper storeys. Floors are served by 12 glass lifts.
The building features what ZHA and project engineer BuroHappold describe as "the world's first free-form high-rise exoskeleton", which removes the need for internal walls or interior columns.
In the central part the exoskeleton has tubular shells that form bridges between the hotel towers and generate a free-form structure that supports itself, but also the façade and the restaurants and club lounge at levels 21 and 30.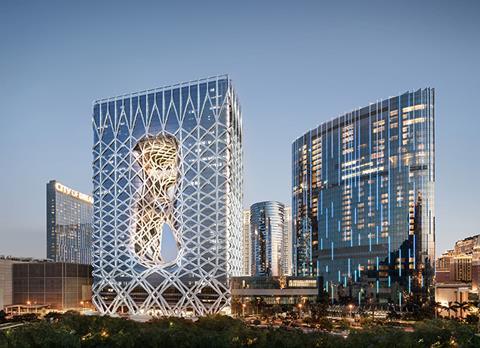 ZHA was commissioned to design the building in 2012 and the structure uses the foundations of a condominium building, construction of which had been abandoned.
Viviana Muscettola, the practice's project director for the hotel, said Morpheus' design was "intriguing" because it made "no reference to traditional architectural typologies".
"Macau's buildings have previously referenced architecture styles from around the world," she said.
"Morpheus has evolved from its unique environment and site conditions as a new architecture expressly of this city."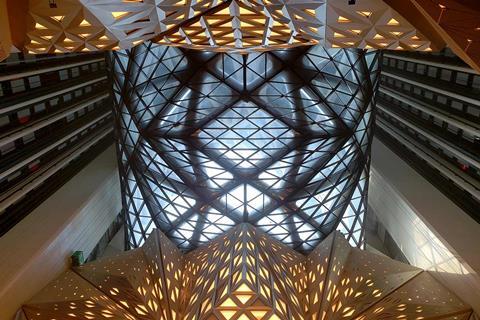 BuroHappold partner and project principal Wolf Mangelsdorf said Morpheus's intricate exoskeleton gave the building a distinct identity, but said the "unique geometry" of the structural lattice required had made the building one of the "most challenging large-scale steelwork projects of its kind".
"At every step of the design process buildability was one of the main drivers, while we put all of our deep structural engineering knowledge, specialist façade expertise and technical know-how into making sure that would not stand in the way of creating a great piece of architecture," he said.
He added that as well as matching ZHA's form requirements, the building also had withstand typhoon winds, Macau's susceptibility to earthquakes and the complex load paths resulting from the irregular geometry.
Suites at the hotel cost around £1,000 a night.