Founded in 2009, London practice vPPR Architects designs culturally and environmentally responsible architecture
Practice statement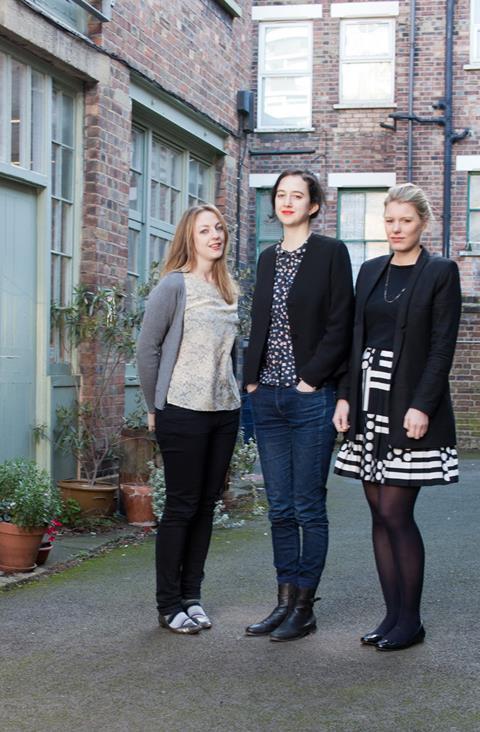 We are an energetic London-based architectural practice founded by Tatiana von Preussen (31), Catherine Pease (30) and Jessica Reynolds (30) in June 2009. We design culturally and environmentally responsible architecture that is conceptually legible at an urban, architectural and detail scale in response to each site and brief.
The combination of playful investigation into context, formal innovation, public collaboration, high quality detailing and environmental engagement distinguishes us as a practice. Over the past three years our six-strong team has accrued a wide ranging portfolio of residential, commercial, public and temporary designs, both new build and renovations, and are committed to the creative improvement of urban life through playful and bold interventions in the city with a strong formal presence. Our design philosophy focuses on the framing of dialectical relationships:
the meeting of innovative digital technologies with traditional materials;
juxtaposing cutting-edge geometries with historical detailing;
alternating between artificial and natural landscapes and environments.
Sustainability is crucial to our design methodology, in terms of ecological, urban and cultural impact. We work closely to integrate landscape with the built environment and to productively re-activate leftover spaces in the city for the public.
Collaboration is central to the way we work, and in the past have partnered with sculptors, landscape architects, fashion designers, fooddesigners, and community groups in addition to the full design team. Teaching, lecturing and research form an essential part of our practice, enabling us to participate in current architectural discourse.
We have been recognised publically in press articles and shortlisted for a number of projects including the Coca-Cola 2012 Olympic Pavilion and the current Floating Cinema Competition.

vPPR ARCHITECTS
7 Temple Yard,
London E2 6QD,
020 7729 6168,
www.vPPR.co.uk
Projects
Ott's Yard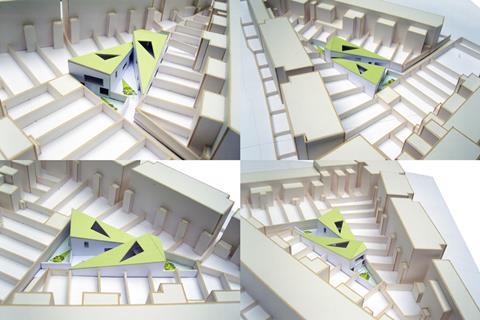 London, 2010-2012 (under construction) How can landscape and sustainability be applied critically to the city? Ott's Yard, currently under construction in North London, is a development for two triangular eco-houses where context and sustainability are intrinsically interwoven as part of the concept.
The site which was previously a derelict joinery workshop is located at the centre of a residential block surrounded by twenty-three back gardens.Having explored the picturesque qualities of the overgrown site in a public art exhibition, we developed plans based on the site's triangular geometry: two houses, each with their own garden, and a shared communal courtyard emerged out of a pin-wheel triangular fractal pattern. In collaboration with landscape designer Arabella Lennox-Boyd, the sloping roofs of the houses will be transformed into carefully planted gardens to promote local biodiversity and create floating gardens for the residents and neighbours to enjoy from above.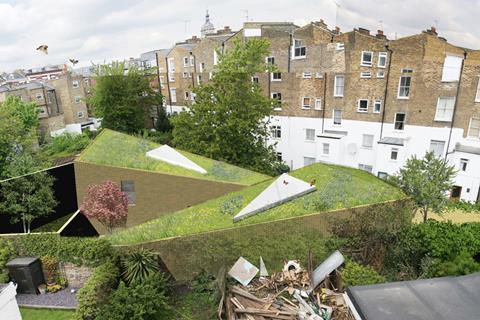 This project exemplifies how we articulate hierarchies of hard and soft surfaces: from the central communal triangular paved courtyard, to the grassy private gardens of each unit, to the raised triangular planted green roofs, each space has its own character and is unified through the geometry. The geometric paving continues inside each house to emphasize the link between enclosed and exposed zones.
Split House London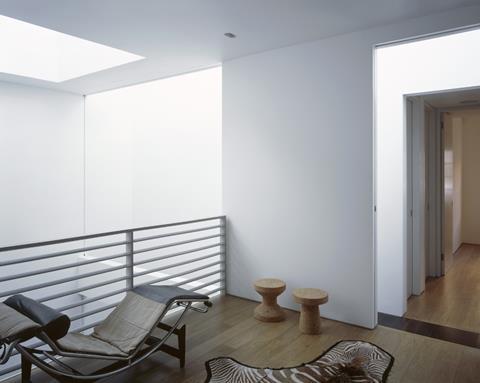 How can light radically transform a traditional domestic setting? Completed 2011, this project entails a complete rebuild of a mews house near Marble Arch and intends to bring maximum natural daylight into the North-facing residence, enclosed on three sides by two-storey party walls.
Named "Split House," the new design uses a central staircase to divide the private spaces (bedrooms, bathrooms) at the front of the house from the communal ones (dining room, kitchen, living room) at the rear. The clarity of the plan is legible in the material palette: the incisive staircase is constructed with a dark stained oak, visually playing on the idea of a shadow gap, and is lit from above by a frameless skylight to form a slot; in contrast the two sides are painted throughout in a range of subtle whites and creams.
A new roof terrace enclosed by perforated mesh and a matching external staircase refers to a theme of transparency that is evident elsewhere in the house. A large frameless skylight is positioned over a double height void in the dining room, which is theatrically overlooked by the mezzanine living room, creating a dramatic conclusion to the house.
Stretch Pavilion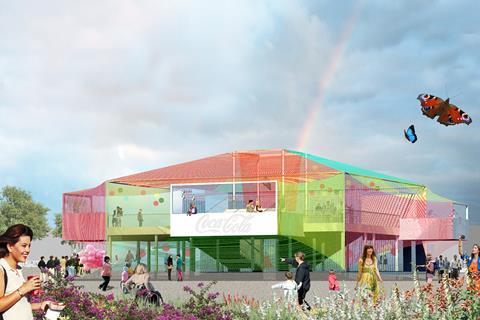 To what extent can architecture be participative? In collaboration with Ove Arup & Partners, Equals Consulting and fashion designer Elisa Pettigrew, vPPR was shortlisted for the Summer Olympic and Paralympic Coca-Cola Pavilion for London 2012 which presents the world's first four-dimensional moving icon.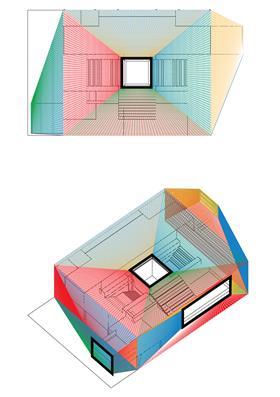 Conceived in three basic parts - a secure base frame, moving terraces and a bespoke net façade - the pavilion is simultaneously a stage for performances and a performance in itself. The changing form of the pavilion corresponds both to its internal use and the unpredictable weather, resulting in four primary configurations. These accommodate a wide variety of activities, from mass visitor flows to one-off dj events, and act as a weather indicator, alternating between sunshade and rainscreen.
The pavilion is conceived as a bridge between architecture and fashion.
Dressed in a stunning, iridescent, constantly shifting exterior envelope, it literally transforms into something you can wear: a custom-made net bag. The net, made from threads of recycled plastic Coca-Cola bottles, speaks of the playfulness, elasticity and ephemerality of the event-based nature of the Olympics, with clear sporting connotations.