The latest textural innovations from Spanish manufacturers took centre stage at this year's Cersaie exhibition in Bologna. Unique tile concepts were unveiled throughout the halls, demonstrating Spain's commitment to developing intricate tile solutions which combine well-conceived aesthetics with tactile finishes.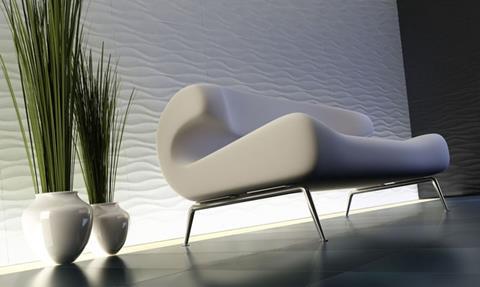 Cersaie 2010 provided the perfect platform for the Spanish tile industry to introduce new collections which combine technical advancement with longevity in terms of design. Mindful of the issues affecting the Spanish economy, manufacturers have responded by introducing highly commercial products which successfully blend timeless neutrals with decorative effects. The result was an impressive showcase of well-designed tiles which explore all nuances of textural technology and tonal creativity.
Highly decorative in style, but restrained enough to complement almost any application, the latest concept from Aparici was the organic inspired Acoustic tile. Featuring a fluid wave effect on the surface of the tile, Acoustic is a three dimensional tile which is available in White, Gold, Black and Grey and offers a strong visual effect when used over large surfaces.
Natucer's revolutionary new Life Arq concept is an architectural collection for exterior and interior projects. Designed to provide an ergonomic solution for walls, facades and zoned partitions within open plan interiors, the Ivy series from Life Arq encapsulates the innovation Spanish manufacturers are bringing to the surface decoration sector of the market. Natucer have launched a truly original tactile finish by using multiple circular porcelain pieces en masse to create an alternative look for expansive surfaces. Each piece is fastened together by applying either a clip attachment or using an adhesive to secure each segment in place. The overall effect offers a highly technical and elaborate finish, which is in fact simple to install and therefore perfect for commercial projects such as public buildings or high specification residential homes.
For those sourcing a more understated textural solution, Pamesa's stand included a new white body ceramic tile called Udine-Fiore-Velvet which is available in a new 25x75 format. Using digital technology to create textured finishes, the new tile offers real scope for embellishment. Pamesa also showcased the Capua tile which comes in a 25x50 format and includes all-white or a decorative blue and white toned tiles for a decorative aesthetic which is subtly stylish and versatile.