Social media accounts accused by a group of architects and academics of leading a "witch hunt" against Bartlett staff following last month's bombshell report into alleged abuses at the school are the inevitable response to decades of inaction from UCL, writes Future Architects Front co-founder Charlie Edmonds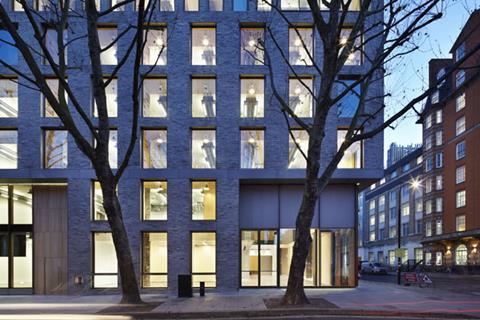 The Bartlett open letter is a masterclass in punching down. On June 30th, an open letter was published from a cohort of well-established architectural bosses, curators, and academics. The open letter decried the "blacklisting" of staff in response to the Howlett Brown report, a document that meticulously recorded numerous accounts of abuse and exploitation from within the Bartlett School of Architecture over the span of decades. The letter described continued investigations as "Kafkaesque", "unnerving", and "seemingly unending". Signatories even claimed that the publication of this report had led to an online "witch hunt" that targeted "decent and talented teachers".
After reading such dramatic statements, you might expect to learn the open letter was written in response to a long and protracted campaign of online abuse from influential social media figures. The reality, however, falls far short of this depiction. The "social media blacklists" described by the letter were in fact two posts from a small Instagram account known as Time's Up Bartlett.
The anonymous group, made up of current and former students, compiled a list of faculty members that were alleged to have committed acts from bullying to abuse and assault. The list itself has since been taken down in response to fears legal action could follow. Such grassroots practices of anonymous reporting and sharing are common to activists with no recourse to official channels of accountability. Time's Up Bartlett, whether or not you agree with their methods, should therefore be seen as an organic and somewhat inevitable response to decades of inaction from UCL - inaction that has left survivors alienated from the institution and sceptical of its ability to safeguard them.
Although the anonymous account has evidently upset the signatories of this letter, they do not elaborate on exactly how these two posts might have adversely affected faculty careers. In fact, a leaked email to staff from UCL Vice-Provost Anthony Smith confirmed that no action would be taken in response to anonymous social media activity. At the time the open letter was published, Time's Up Bartlett had fewer than a thousand followers and their content was seen by relatively few. Rather ironically, the account saw a 20% increase in total followers throughout the four days following the letter's publication. It is therefore difficult to imagine how, as a small account run by those without institutional power, Time's Up Bartlett was supposed to represent any sort of threat.
The writing of an open letter by 24 'high-profile' academics and architects therefore seems an increasingly irresponsible and disproportionate use of institutional power. In a Twitter thread, Kingston University architecture professor Andrew Clancy described this condition as follows, "in redescribing the opening up of cultures of abuse as a witch-hunt, the letter seeks to replicate the punching down that lay at the heart of the issues the report unearthed".
The argument posed by the open letter is myopic, reactionary, and fundamentally ignorant to the extreme power disparity represented by those involved. The authors do not express solidarity with the victims of abuse at the Bartlett, but rather with the so-far unaffected staff whose names were included in an Instagram list.
Perhaps what discredits this open letter most significantly however, is the follow-up commentary from signatory, Paul Finch. In his column, Letter from London, Finch meanders through a number of narratives in an attempt to discredit the Howlett Brown report. He eventually posits that accounts of abuse in the report may have been 'wrong or exaggerated'. Considering the Howlett Brown investigation was conducted by independent legal consultants and resulted in an extensive and well-corroborated document based on over 300 respondents, Finch's stance is evidently outrageous and indefensible.
You might have expected Finch's fellow signatories to denounce his reprehensible comments, but you would be disappointed. As of yet, the open letter signatories have remained silent on the matter. It would appear they reserve their denunciations for the powerless.
Postscript
Charlie Edmonds is the co-founder of activist group Future Architects Front
This article was amended to clarify lists were taken down in response to fears of legal action