BD brings you an exclusive sneak preview of a selection of postcards from The Architect: What Now? Exhibition
This set of postcards comes from Ken Shuttleworth, founder of Make and Sean McAlister, co-director of Project Context.
All postcards will be on show from 10-13 August at the crypt at Sir John Soane's One Marylebone.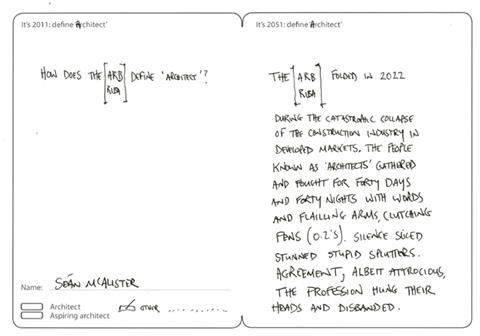 Organised by architecture graduates Wai Shin Li, Dan Slavinsky and Alison Coutinho, the exhibition displays a series of postcards where architects and aspiring architects define the term "architect" today and in 50 years' time - by sketching, writing, or sticking items on the postcards.
Postscript
There are a few spare places on the guestlist for the opening night and debate.  If you would like to attend, please email whatnow2011@live.co.uk