January may be the bleakest month, but architects predict more gloom for 2018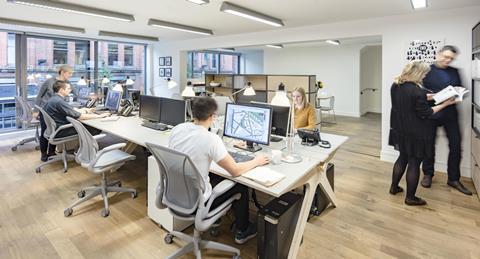 Architects in Britain are braced for a year of increased financial pressure against a backdrop of Brexit uncertainty and an increasingly competitive fees environment, according to the results of BD's New Year survey.
Almost half of the practitioners who responded to our sentiment snapshot during the past month said they expected workloads to contract over the course of 2018, with barely one in five predicting a rosier year for business than the previous one.
Fully 47% of respondents expected some contraction, with around one third braced for the contraction to be substantial. Thirty-two percent of architects said they thought 2018 workloads would be about the same as 2017.
Just over 20% of architects thought this year would be a more positive one for workloads, but the vast majority of those believed it would be only "slightly" better; only 3% predicted a substantial increase.
Among the challenges for the year highlighted by respondents, winning work, managing a fluctuating workload, and turning a profit all – somewhat unsurprisingly – featured prominently in responses.
However, architects who chose to offer personal perspective gave a useful insight of changes the sector is undergoing, with intense fees competition and client uncertainty driven by the UK's decision to leave the European Union common themes.
One respondent, who said their practice operated solely in the domestic market said: "Last year clearly showed a lot of interest, yet the rate of jobs stopping and starting has become much more volatile. Fees have also stagnated for such a long time this is impacting on the ability to offer pay rises to retain key staff members."
Another observed: "As we move into a period of sustained uncertainty once-routine tasks and issues become more complex and difficult."
One architect, who said their practice benefited from healthy levels of repeat business, said there was clear evidence of behaviour change among clients. "Workloads fluctuate as clients appear to be carrying out work stage by stage, so it is difficult to predict which work will progress or suddenly come back to life," they said.
Survey respondents exhibited a clear air of negativity over the impact of Brexit, compounded by a resounding vote of no confidence – 82% - in the government's ability to deliver a departure deal that was good for the profession.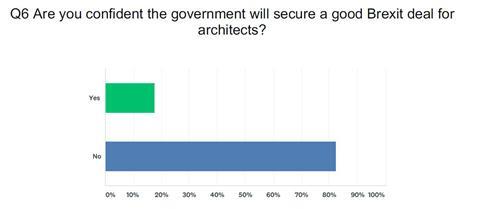 However respondents were less pessimistic over the staffing implications of the UK's decision to leave the European Union.
While around two-thirds of the architects who responded to BD's survey had at least some staff who are non-UK passport holders from other EU countries, only 41% said they expected to lose staff as a result of Brexit. Around half of the practices that expected to lose EU architects thought that departures would be limited to 10% or fewer of their EU staff.
A clear majority of practices (74%) believed that Brexit would make it harder to employ staff from European Union countries.
One reason behind BD survey respondents' relative calmness in relation to the effect of Brexit on existing non-UK staff could be the practice types they represent.
While the loudest Brexit concerns have come from architects like RSHP and Amanda Levete's AL_A, the majority (63%) of respondents to BD's survey were from professionals who described themselves as working for a practice of 10 or fewer architects.
Our survey's 100-plus respondents were clear about 2018's biggest growth area: housing. Sixty-two percent of architects cited residential work from a list of sectors. The next placed sector was education, on 9%.
Despite those perceived "green shoots" areas, architects are under no illusion that the overall work environment will result in anything other than a year of belt-tightening in the face of inflation.
Just 18% said they expected a pay increase of any magnitude this year, while 29% predicted a decrease in earnings.