Wirral Waters project centres around historic Venetian-inspired hydraulic tower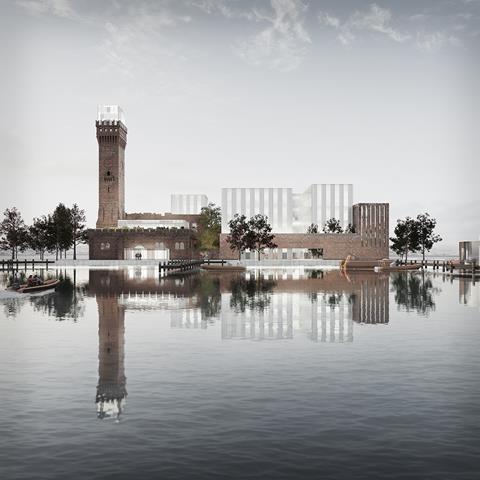 Schmidt Hammer Lassen Architects has won an invited competition to design a £20m maritime centre at Wirral Waters in Birkenhead.
The Danish architect was appointed alongside Ellis Williams Architects to draw up plans for the facility which will be part of Peel Land's £4.5bn Wirral Waters development which is being masterplanned by local firm Parkinson Inc.
The 6,400sq m Maritime Knowledge Hub will be dedicated to marine engineering research and development, survival training, business incubation, offices and events.
The hub's centrepiece is the 19th-century Hydraulic Tower which was modelled after Florence's Palazzo Vecchio but which now lies largely derelict, having been bombed in the Second World War.
It will be refurbished to house the Maritime Industries Centre's work and meeting spaces, three pools including a HydroLab, a café and an observatory giving views over Wirral Waters and the greater Liverpool area.
A second, new building, to be built next to the tower, will contain new office, incubation, teaching, and cultural space, and will house a tank for an offshore survival training centre.
"Designing a complex that is one of the most transformative new developments in the Liverpool region called for thoughtful architectural design that respects the heritage of the existing building, while looking towards the future," said Morten Schmidt, founding partner of Schmidt Hammer Lassen.
"Our design brings the Hydraulic Tower back to life while creating an architectural expression that connects new and old through beautiful courtyards, a unifying façade, and complementary building volumes."
A wall of reused bricks will surround the two buildings to provide shelter from the exposed conditions caused by the River Mersey's open waters and high winds. The wall will also create intimate outdoor spaces including three pocket gardens.