Toxic smoke is as significant as spread of flames, says Adrian Dobson
The RIBA's director of professional services has blasted the government's ban on combustible cladding as "inadequate".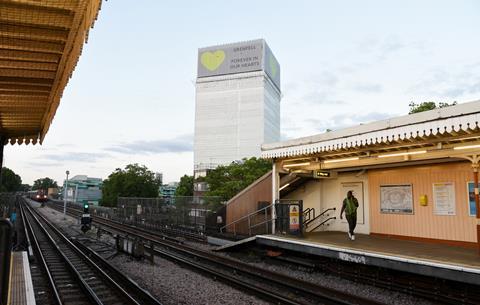 Adrian Dobson said the ban announced by James Brokenshire at the Tory party conference this week should have covered products that are capable of producing toxic smoke.
On Monday Brokenshire confirmed the government would be outlawing the use of combustible cladding on all new residential buildings above 18m, as well as schools, care homes, student accommodation and hospitals.
He said: "I will change the building regulations to ban the use of combustible cladding for all high-rise residential buildings, hospitals, care homes and student accommodation."
The ban will to be applied to buildings where materials have already been fitted.
But the announcement was met with mixed reviews from fire experts.
Dobson said: "It is good news that the government has acted on the RIBA's recommendations to ban combustible cladding on high-rise residential buildings over 18m. The ban needs to be accompanied by clear guidance and effective enforcement to promote fire safety and leave no room for cutting corners.
"However, toxic smoke inhalation from the burning cladding very likely contributed to the disproportionately high loss of life at the Grenfell Tower disaster. Permitting all products classified as A2 does not place any limits on toxic smoke production and flaming particles/droplets. In our view, this is not an adequate response to the tragic loss of life and might still put the public and the fire and rRescue authorities at unnecessary risk."
The RICS' global standards director Gary Strong remarked that the problem remained of existing buildings and those buildings with high-risk profiles under 18m.
And Matt Wrack, Fire Brigades Union general secretary, said: "These measures do not deal with the existing cladding on nearly 500 buildings across England where people live and work every day. The government's proposals only apply to buildings over 18m high… when they should apply to all buildings, whatever their height or use. They continue to allow A2 materials, when they should permit only the highest standard of A1."
Last month it was revealed that a majority of responses to the government consultation on banning the use of combustible cladding on high-rise buildings had backed the move.
The consultation was launched after Judith Hackitt's Review of Building Regulations and Fire Safety fell short of proposing a ban on the use of combustible cladding. Her review was in response to last year's Grenfell tragedy, which claimed 72 lives. Combustible cladding has been blamed for the rapid way fire spread at the west London tower.