200m tall tower one of 12 designs for 'meanwhile' competition
A 200m tall timber tower next door to Wembley Stadium is one of the designs proposed in a 'meanwhile' temporary buildings competition featuring the work of students from the RCA's architecture school.
Called the Splinter, the tower is the most eye-catching of a dozen designs put forward by 12 groups of students for a patch of land in Wembley.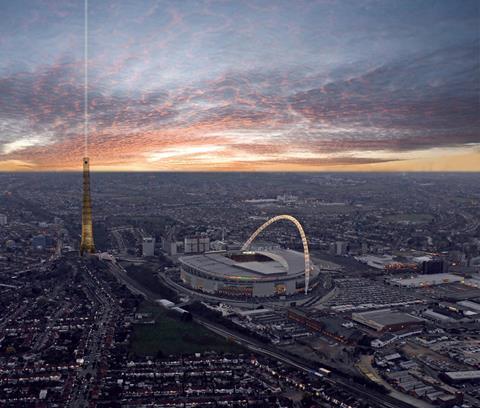 The site is close to the White Horse bridge which takes fans to and from the north London venue.
Its designers say the Splinter has been inspired by the unfinished Watkin's tower which was built in Wembley and got up to 47 storeys before being closed because of fears about its safety. It was eventually demolished in 1907 – 17 years after the architectural competition for the tower was first held.
A spokeswoman for Brent Council said it was working with the students on designs for a temporary building which will be made out of wood. An information board has also been proposed.
She added: "The winning design is expected to be built next year. In the new year, people will have the opportunity to bid to use the building for up to five years to deliver something that benefits the local community."
All the designs are on show in the borough until the end of this week and the spokeswoman said: "The winning design will be subject to formal consultation through the planning process."
Brent is hosting a number of Meanwhile projects in the borough including a parade of pop up shops on Queens Parade, Willeseden, which have already been praised by retail guru Mary Portas.