'The profession is suffering from a missing generation of architects'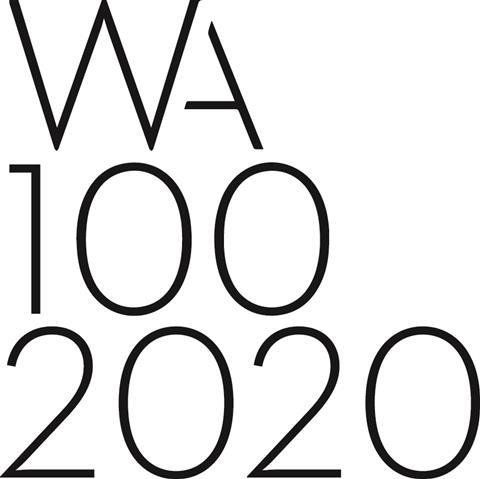 The uncertain sentiment picked up in the main WA100 survey can also be detected in the feedback on hiring and firing intentions.
Nearly half of respondents (48%) expect to let nobody go over the next 12 months. This figure is slightly down on the 54% who gave this answer last year.
More than a third (38%) plan to get rid of up to ten architects, which is slightly up on last year (33%). Just over one in 10 (11%) expected to make between 11 and 30 redundancies.
However, more practices still expect to have a bigger headcount this time next year. About one-third (36%) expect to hire 11-30 architects. And more than a quarter (26%) expect to be recruiting between 31 and 50, the same proportion who anticipate taking on one to 10.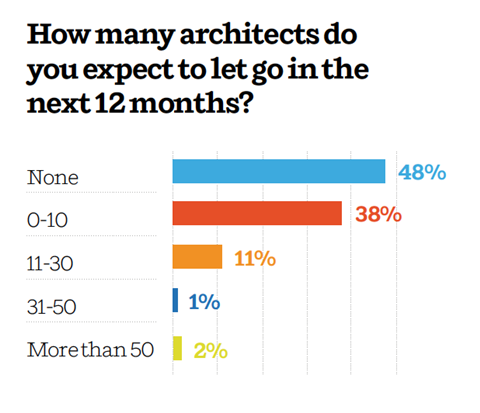 The most difficult places to recruit skilled architects, according to the survey, are Africa and the Pacific Rim, with the latter identified by 23%.
>> Read: WA100 2020: The big list
>> Discover: WA100 2020: Architects brace for global slowdown
>> Latest: WA100 2020: Who's hiring? The global talent race
DLR Group's Griff Davenport says that, while his practice will require more people over the next 12 months, this won't necessarily translate into a big increase in headcount. Instead, he says the focus in the company's US heartland will be on redeploying staff in higher-growth parts of the country. "It's shifting to growing markets in the US," says Davenport, which in practice means transferring architects from regions such as the Midwest to economically stronger areas like Texas and the North Carolina Research Triangle.
We are not considering vacating any part of the planet

Doug Wignall, HDR
HDR president Doug Wignall tells a similar tale: while the practice will hire more architects during the coming year, it is less of a growth model. For example, the company will be cutting back in certain regions, such as the Middle East, where operations will be smaller this year than last. "In some places where the economy has suffered more, we will 'right size', but we are not considering vacating any part of the planet," he says.
This reshaping may mean some staff leave the practice: "The worst thing you can do is eliminate staff who you spend time training and bringing into the company, but sometimes it doesn't work out because we don't have a position available or they don't want to move."
But a wider shake-out across the sector means HDR has more candidates to choose from. "You have to work out who you want and who you don't. In the best of markets you are spending 90% of the time chasing people who are employed but we are seeing more and more people coming to us." Competition for the best staff is "as fierce as ever" though, he adds.
The profession is still suffering from the missing generation of architects, who never entered the profession due to the late Noughties recession and would now be stepping up into more senior roles, says Davenport.
At Perkins & Will, Richard Marshall says that hiring junior employees is more expensive than it used to be. "The cost of living has gone up significantly in most of the locations we are based: people are having to ask for more money."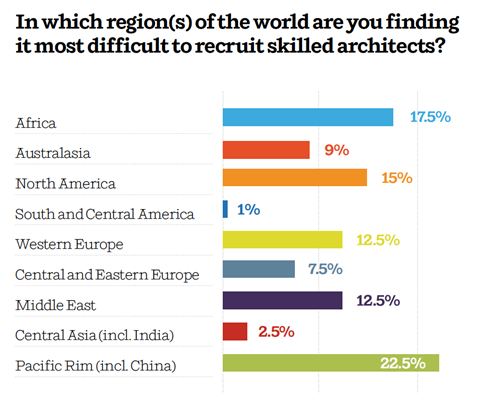 The pipeline of future architects in the US is healthy though, with enrolment on university architectural courses generally up, reflecting a renewed interest in the design professions. "It's a great time to be coming out of college," says Davenport.
It has been difficult to enable some of our foreign employees to stay in the USA

Griff Davenport, DLR Group
In order to address DLR's skills gap, he says the practice is tapping traditionally overlooked pools of talent by undertaking outreach work with traditionally black colleges in the southern states. At the same time, he adds, bringing in staff from overseas is an increasingly expensive process, due to the costs of renewing visas. "It has been difficult to enable some of our foreign employees to stay in the USA." In a bid to address this problem, DLR has been working closely with the American Institute of Architects and the federal government to make it easier for certain posts to be filled by overseas candidates.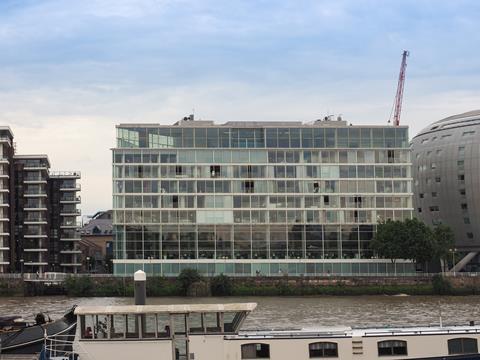 Migration is a headache in the UK too, where tighter labour restrictions look inevitable post-Brexit. Foster and Partners' Matthew Streets says that the practice is now employing a record number of architects, which he expects to largely stabilise this year. "Because of the relaxation in tier 2 (visa rules), we have slightly more from the rest of the world and slightly less from the EU. People are still coming from Europe for the moment – we've not had a big exodus yet."
WA100 2020 survey
To take part in next year's survey, contact Mike Conway at: Worldarchitecture@camargue.uk or call +44 (0) 1242 577 277
How to access the WA100 2020 survey
PDF: A downloadable PDF of WA100 2020 is available for £35.00 + VAT
Print: Extra print copies are available for £42.00 + postage
For more on Building Design subscription packages, go to bdonline.co.uk/subscribe