Former military building to become cultural focus for expanding ex-garrison town
Type3 Studio has won planning permission for proposals to create a new arts centre in the former Hampshire garrison town of Bordon.
Once in line to be one of New Labour's "Eco Towns", Bordon and its linked village Whitehill are now dubbed a "green town" and earmarked for a significant expansion over the next decade, with the delivery of thousands of new homes, jobs and community facilities on 100 hectares of former Ministry of Defence land.
Type3's new arts venue will provide a cultural focal point for the growing community, and will be built out from a neo-Georgian mess hall in Bordon – the façade, portico and "key details" of which will be retained.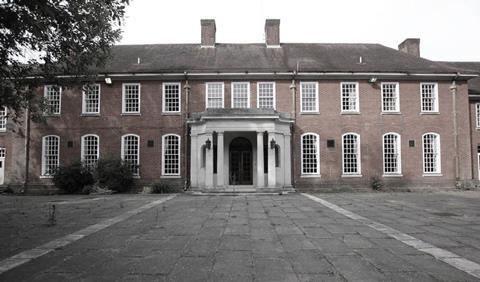 Plans approved by East Hampshire council last month pave the way for the addition of a six-screen cinema with an outdoor screen for summer events, a roof terrace providing views of the local area, an arts and heritage gallery and shops selling food and drinks.
Type3 said the scheme would see the mess hall's existing steeply pitched roof raised to create a new floor of accommodation, and that the new roof would create a canopy over the terrace at the site's south-western corner.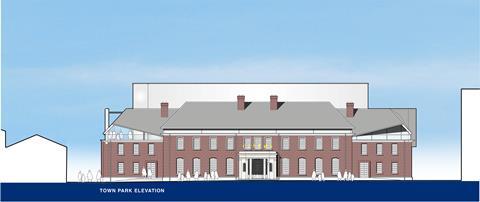 To the rear of the sergeants' mess a new structure provides a number of food-and-drink outlets at ground level, with direct access to the high street and town square. Along the high street elevation, a feature stair articulates the facade of the building, providing access to the roof terrace.
James Child, project lead at the regeneration company set up to deliver Whitehill & Bordon's transformation, said the new complex would be a high-quality landmark.
"It will bring new jobs and leisure options to the area and will become the heartbeat of the town," he said.

"It is no secret that towns and cities throughout the country have been impacted by a challenging retail environment and we have worked hard to create a town centre masterplan that offers something different."
Whitehill & Bordon's new town centre is due to open in phases between autumn 2020 and spring 2021. Plans approved by East Hampshire last month also include 170 new homes, a new market and offices.
The Whitehill & Bordon Regeneration Company is a joint venture between Dorchester Regeneration and housebuilder Taylor Wimpey. It was appointed by the MoD's Defence Infrastructure Organisation to redevelop the former Prince Philip Barracks in Whitehill & Bordon.