Proposals follow demise of masterplan drawn up by Jestico & Whiles and Stockwool
Takero Shimazaki Architects has submitted plans to redevelop an east London theatre, almost doubling its capacity.
The practice's proposals for The Yard Theatre at Hackney Wick were lodged with the London Legacy Development Corporation last month and would create an expanded centre for the organisation and new community space.
The existing 110-seat theatre was built in former industrial premises at Queens Yard, off White Post Lane, in 2011 on a budget of just £9,000.
It was originally expected to serve as a temporary venue, and faced demolition under a residential-led masterplan for the area developed by Jestico & Whiles with Stockwool that was approved by LLDC three years ago.
A replacement venue in a different location would have been provided under those proposals. But the design and access statement accompanying Takero Shimazaki's latest plans says The Yard Theatre was "made aware" of developer Hatton Garden Properties' decision not to proceed with the masterplan last year.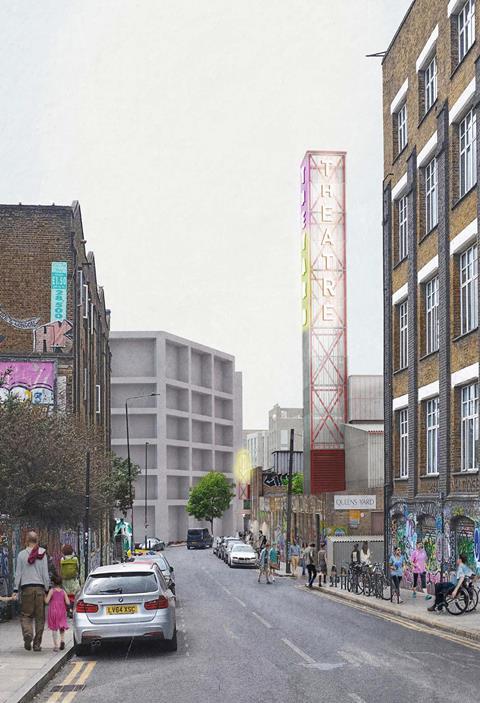 Shimazaki's proposals would retain some of The Yard Theatre's current structure, but boost capacity to 200 seats. The new venue would have a new entrance and first-floor space for community use. It will also have a 23.5m tall natural-ventilation chimney that would act as a "visual beacon" for the venue.
The practice said the structural strategy for the project was to "retain and reuse" as much of the current building's external wall fabric and ground floor slab as possible.
"The theatre superstructure will comprise of reclaimed steel sections and laminated veneer lumber," it said.
Shimazaki said the latest designs were "heavily informed" by earlier proposals created for the relocation of the theatre under the ditched masterplan.
The redevelopment team includes project manager Plann; structural engineer Momentum; services engineer Ritchie & Daffin; and cost consultant Gardiner & Theobald.
Shimazaki's Curzon Camden cinema, which opened in 2021, is one of six projects vying for this year's Stephen Lawrence Prize.