Expert witness Paul Hyett said architect needed good reason not to hire specialist help
Architect Studio E was "imprudent" not to have appointed a specialist fire consultant when it took on the Grenfell Tower refurbishment project, the inquiry into 2017's fire that claimed 72 lives was told.
Expert witness Paul Hyett said given Studio E's lack of experience in high-rise residential overcladding "it would have been important for them to get a fire consultant and to use that fire consultant properly".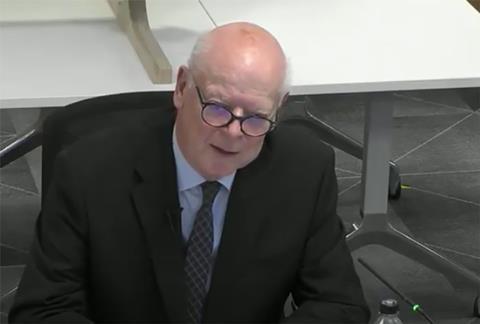 Hyett, a former RIBA president who retired in June after 16 years as a principal at HKS Architects to set up his own consultancy, began what is expected to be three days of evidence to the inquiry on Monday afternoon.
He faced a series of detailed questions from inquiry barrister Richard Millet QC about architects' training in Building Regulations and fire safety and the level of competence that could reasonably be expected of them.
Millett first asked him whether Studio E should have refused to take on the project since it had no experience of high-rise residential overcladding.
Hyett replied: "We are designers and we are trained to design and, through design, to solve problems. So the fact an architect hasn't done, in this case, a building of the scale and type at Grenfell doesn't suggest to me there's an immediate problem.
"The important thing is to understand that code has to be researched, has to be understood, has to be applied and, where advice is needed from other specialists – either architects with particular experience in that area brought in to the office as subcontractors or … other consultants like a specialist fire consultant – architects have to know that they must, in researching the project, get the right experience into that project as it develops."
Asked whether the "standard of service expected" could have been achieved by Studio E through CPD or research alone he said: "Yes. I'm in no doubt that it could."
Millett then asked him whether he would expect a firm in Studio E's position to have hired a specialist façade engineer or consultant.
Hyett replied: "No. I would expect them to look very hard at the problem to satisfy themselves – or to question themselves whether they had resource in the office that could do the research necessary and develop the expertise necessary, or whether they should make a strategic hire."
Millett asked how early in the project this should happen, to which he replied: "Like, at the beginning." He then explained this was because the "foundations of the project would need to be right from the beginning" and because "time is ticking fast on a project once the instruction comes".
He was asked specifically whether Studio E project associate Neil Crawford should have considered employing specialist help because he had used a façade engineer, Arup, for the cladding on an office project in Manchester he led for his previous practice, Foster & Partners in 2004.
Hyett said it was "perfectly reasonable to proceed without a specialist façade specialist on an overcladding project".
Millett then asked whether it was "unreasonable" for Studio E not to have hired a fire consultant.
Hyett replied: "I don't think they're absolutes but the experience Studio E had would suggest this is a building type they have not done before. It's certainly pretty substantial and complex. One would have to make an extremely good argument for not having a fire consultant.
"That argument might be, 'Well, we've been doing these for 15 years and we know all about it , we've got some highly specialised architects in the office who have done 10 of these before'.
"But looking at it from where they were coming from, I think that it would have been very, very prudent – it would have been important for them to get a fire consultant and to use that fire consultant properly."
Millett pushed him further, asking whether it was therefore imprudent not to have hired a specialist fire consultant. Hyett replied: "That particular firm? Yes.
"I'm not saying that no architect could have proceeded without, but that particular firm, a partner in that firm – when we take on work, we've got to be confident that we can deliver what is required. We have to look at our resources, we have to look at the skill, the size, and we have to satisfy ourselves we can do that work and do it with a competence and a confidence. I wouldn't have wanted to proceed on that without getting a fire consultant."
He concluded: "If you think you can address the problem as an architect, as a designer, then I think it's reasonable to proceed. But you would have to make the case for why you wouldn't be going to a specialist. And I think from where they sat I would, as a partner, have said, 'We need a fire consultant on this'."
The inquiry continues and will not be suspended as a result of Thursday's lockdown, chairman Martin Moore-Bick confirmed.