Architect delivers terrace of four-storey houses for Hackney
Stephen Taylor Architects has completed a project to deliver seven new council houses for Hackney council on a tight corner site in Stoke Newington.
The four-storey homes, most of which have frontages just 3.5m wide, replace a previous low-rise council block on the corner of Barbauld Road and Harcome Road. The project is named Aikin Villas in a nod to the three-storey Aikin Court block that it replaces.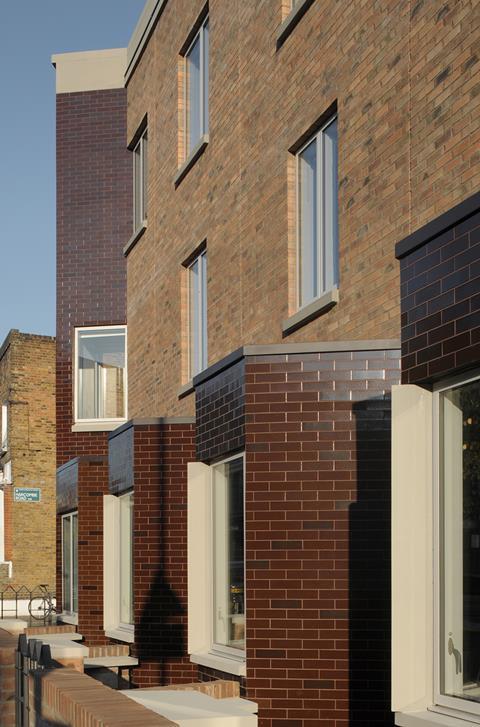 Taylor said the new homes – all but one of which front Barbauld Road – were unusually narrow when compared to their existing neighbours, and noted that properties' floorplans were flipped in a way that placed their main living spaces at the back and the kitchens at the front.
He said the properties' kitchens were "ambiguously separated" from their porches and lobby areas by an openable glazed screen.
"The porch with its glazed screen is a special moment in the building. It simultaneously allows one to enter the house without passing through the kitchen, but also – particularly on warm days – allows one to connect the daily life of the kitchen to the porch and front garden," he said.
"A seat placed in the garden wall by each entrance further suggests an informal occupation of the threshold – encouraging the notion of neighbourliness and conviviality."
Taylor said the brief for the project had been to develop "simple, functional and high-quality housing that could become a model for a new London vernacular as well as have a collective urban identity and typological clarity".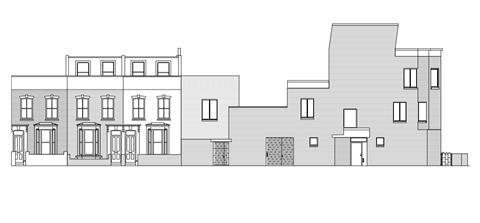 Taylor said four of the properties would be for social rent while the other three would be sold by Hackney Council to fund the development.
He added that the flats block the homes replaced had been in a poor condition and inviable to repair.