Industrial blueprint challenges proposals for residential redevelopment of historic port
SPPARC has created a masterplan to expand and enhance Chatham Docks in Kent in a way that would keep the port in industrial use and provide almost 100,000sq m of new business floorspace.
Its proposals come after site owner Peel Land and Property unveiled early-stage proposals by P4Planning to close the commercial port in 2025 and deliver around 3,600 new homes on the 35ha site.
ArcelorMittal and SPPARC's plans would see 800 R&D and advanced manufacturing jobs retained on the site, and the creation of approximately 2,500 new jobs, according to the firms. The wider masterplan strategy will introduce public links to a green landscaped riverfront route linking St Mary's Island to the Chatham Waters shopping parade.
ArcelorMittal chief executive officer Phil Taylor said the housing proposals would "rip the heart out" of the Medway area's local economy. He pointed to analysis produced in conjunction with the Association of Chatham Docks Commercial Operators suggesting the cost to the local economy would be £258m a year.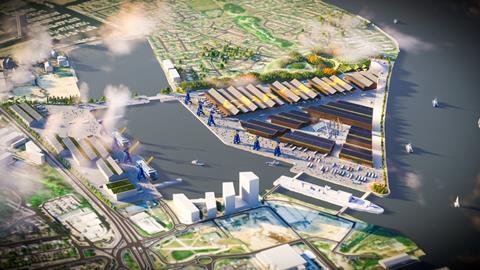 "Ports in the South East are already stretched to capacity," he said. "As Britain seeks to find new trading partners across the world, it is vital that successful places such as Chatham Docks are supported in policy and planning, and grow sustainably, in a coordinated way, as a critical component of Britain's goods and manufacturing supply chain."
SPPARC principal Trevor Morriss said it was "tremendously exciting" to be involved in a project with such wide-reaching implications for the region.
"Chatham Docks combines everything we value in a project: a historic site with the potential to generate pride of place, protect the existing jobs and create more jobs for the local community, and broader positive outcomes for the UK's infrastructure," he said.
"This appointment is recognition of SPPARC's ability to sensitively tackle challenging briefs and enhance existing assets and districts across a broad range of sectors where careful and well-conceived design is required to balance the demands of competing priorities."