McAlpine latest contractor to reopen some sites in limited capacity
There were some glimmers of hope across the industry today as another major contractor began opening sites and the government told building control inspectors to get back to work.
At the same time brickmaker Michelmersh announced it was recommencing production at all its UK kilns, despite the lockdown restrictions brought in to combat the coronavirus pandemic.
In a sign of confidence that UK housebuilders will be able to get back on to sites in May, the UK's fourth largest brickmaker said it will "this week begin an orderly and safe recommencement of production across its plants".
Kevin Cammack, an industry analyst from Cenkos, said the announcement was "light at the end of the tunnel".
He added: "This is a significant statement in the wider context of the construction industry, most specifically housebuilding.
"It demonstrates that the building materials manufacturers are gearing back up on production which is an essential element in the supply chain and suggests to me that a May return to site working (for new housing sites) is feasible."
Meanwhile Sir Robert McAlpine has begun reopening some sites that were shut following the prime minister's decision to put the country into lockdown more than four weeks ago.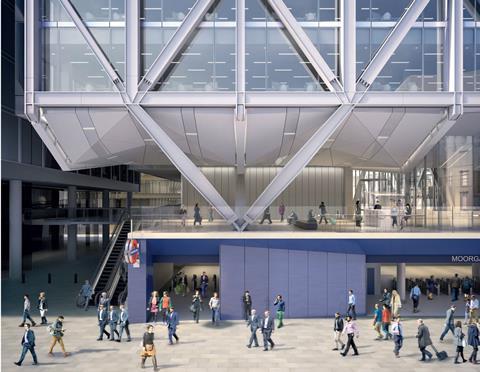 The contractor, whose sites includes DLA Design's conversion of a historic building in Leeds into Channel 4's new headquarters and Wilkinson Eyre's 21 Moorfields offices for Deutsche Bank in the City of London, is following others including Mace and Multiplex by opening up a limited number of sites – albeit with a reduced number of workers.
The firm, which earlier this month furloughed around half its 2,000 staff and cut the pay of the remainder, said: "We will not put people at risk. Where we can work safely, we are. This is in a limited capacity and only where absolutely safe to do so in accordance with all safety and health guidance." It said many of its projects had continued to carry out essential off-site and pre-construction works so they were prepared for a "full return to work at the appropriate time".
Also this week the government told building control inspectors they should continue to carry out site inspections where construction work is continuing.
New guidance issued by the government said: "Building Control Bodies should continue to undertake normal, regular on-site inspection activity where this can be done safely, in line with Public Health England guidance."
While it says other evidence, such as photographs, can be used where relevant to demonstrate compliance with building regulations, remote inspections "should not normally be used as the sole method of assessing compliance".
The guidance comes despite the fact the majority of UK housing sites remain shut due to the lockdown restrictions imposed by the government.
But, with building control a key issue following the failures identified in the wake of the Grenfell Tower tragedy, the government has opted to issue guidance on how to carry out inspections where work is proceeding.
At the start of the month, one of the UK's largest private approved inspectors providing building control services, the NHBC, said site inspections should only continue where safe social distancing rules could be applied.
Since then, the NHBC has revealed it is furloughing staff in order to respond to the industry shutdown.
The new government guidance said building control officers should, where work has been halted, "be ready to provide advice on ensuring that this is done such as to leave the building in a safe state".