Practice cites influence of 'béguinages' for 400-home, €100m scheme
Sergison Bates has won a design competition for a €100m new neighbourhood in Brussels that will deliver hundreds of new homes, sports facilities and new commercial space.
The practice is part of a design team that includes local practice noArchitecten, Brussels-based architect Aurélie Hachez and Dutch firm Korteknie Stuhlmacher that will transform a 7.4ha former industrial site in the Biestebroeck area of Anderlecht.
The winning team beat three other teams at the final stage of the competition. They were led by local firms Multiple Architecture and Urbanisme, Bogdan & Van Broeck and ORG.
Sergison Bates said the project would deliver around 400 social and affordable homes, 1,250sq m of new commercial space and a school with a library and sports facilities.

The practice said its ambition for the winning proposal was to create "a city within the city" that nodded to Belgian and Dutch béguinages, or secluded communities, but which placed a focus on "urban continuity and openness".
Mark Tuff, partner at Sergison Bates, said the Biestebroeck project had "synergies" with the practice's Kanal-Centre Pompidou project in the city.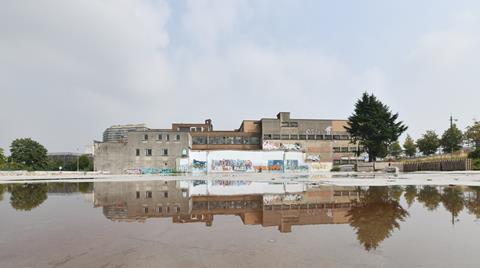 "Our strategy of collaborating with like-minded practices has proved successful once again. We think it is a great asset to bring together different ways of seeing, talents and expertise," he said.
"I'm sure our approach to collaborative work will prove an advantage in meeting the challenges of dealing with the large number of stakeholders on a project of such ambition and complexity. We are also delighted to be working on another project in Brussels, on a site that is part of the Brussels Canal Plan."
Work on site is set to start in April 2023.