Ground Zero documentary to be shown in the UK for the first time next week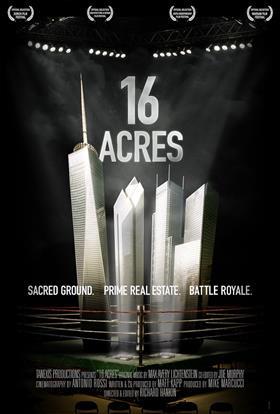 For the latest Portland to Portland fundraiser next Tuesday, the RIBA is hosting the UK premiere of a documentary on the rebuilding of the World Trade Center in New York
Called 16 Acres, by filmmaker Richard Hankin, the film charts the reconstruction of Ground Zero following the September 11 attacks.
The film looks at the controversy, delays and politics of a project that has spread over 11 years, a dozen proposals and 19 government agencies.
It focuses on the people involved, including the politicians, developers, architects, insurance companies, local residents and 9/11 survivors, as they work together on the four skyscrapers that will replace the twin towers.
There are interviews with architects Daniel Libeskind and Michael Arad and mayor Michael Bloomberg, as well as architecture critics and victims' relatives.
The film screening will be raising money for architects' charities, the Architects Benevolent Society, Architecture for Humanity and Article 25, as part of the Portland 2 Portland cycle ride.
This summer, Peter Murray and a team of architects and planners will be cycling 6,500km from US city Portland in Oregon to the RIBA headquarters at Portland Place in London to carry out comparative studies of cycle use in 15 cities.
The film will be showing on February 19 from 6.30pm to 8.40pm at the RIBA, 66 Portland Place, London.
Tickets cost £20 and can be purchased through Eventbrite.