£300m boutique scheme will replace brutalist car park which has tunnel to Harrods
Hamiltons Architects and PRP have won planning permission to replace a 1960s car park in Knightsbridge – which has a tunnel leading to Harrods – with a nine-storey boutique hotel.
The practices' £300m proposals were drawn up for Singapore-listed City Developments and will deliver 120 rooms, a top-floor bar, 2,100sq m of retail space and a spa for the client.
The Pavilion Road site already had planning permission for a seven-storey mixed-use residential scheme of 24 apartments – plus commercial, retail, spa and restaurant space – before the Royal Borough of Kensington and Chelsea approved the latest plans.
Recommending the proposals for approval last week, Kensington and Chelsea planning officers said the car park had no architectural merit and PRP and Hamiltons' proposals delivered a contemporary structure that made the most of the island site.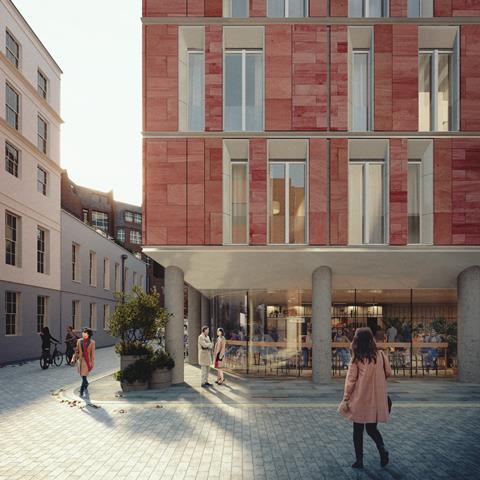 "The glazed ground floor will help animate the site and create a transparent contemporary base," they said.
"The solid section of the building will be clad in red sandstone panels. The tone and colour of the material will complement the character of the surrounding area – especially the red brick rear elevations of the buildings along Hans Crescent and Basil Street."
However, they said the façades would have a "far more contemporary character", while floor-to-floor variances in the grouping of windows would result in an "informal" and "playful" appearance.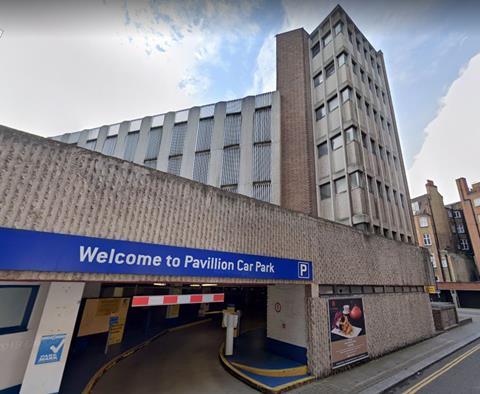 The car park site is a stone's throw from Harrods and is connected to the department store by an underground pedestrian and goods tunnel. The project team said the link was not currently in use.
In 2016 the same client proposed a luxury care home for the same site. The scheme, also designed by Hamiltons, but on that occasion working with PDP London, won planning but was never taken forward.
Hamiltons was also the architect of the 43-storey Strata tower at Elephant & Castle.
PRP said it had formed a joint-venture partnership with Hamiltons to deliver the car park project.