Claimants blame supply chain for alleged defects in fire prevention measures
PRP is named among five firms in a £40m claim launched by a Cheshire council for alleged defects in the construction of a retirement home which burned to the ground in August 2019.
Cheshire East Borough Council and two other co-defendants are seeking damages in relation to the fire, which destroyed Beechmere Retirement Village almost entirely.
The blaze appeared to have started due to "hot works" being carried out by a roofing contractor on the top floor of the central part of the building.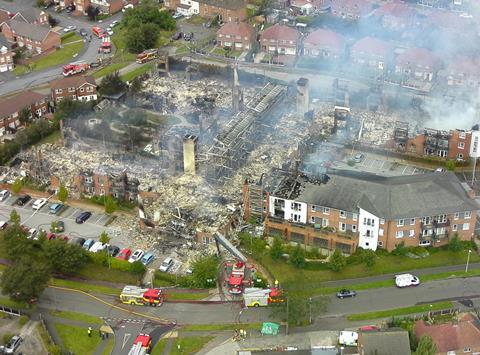 The council, along with PFI contractor Avantage and leaseholder Your Housing, allege that deficiencies in the design and construction of the property, including the absence of compartmentation, cavity barriers and sprinklers, meant the spread of fire was not stopped.
The defendants are main contractor GB Building Solutions and its supply chain which include PRP, subcontractor Prestoplan and fire engineering consultant WSP.
Mascot Management, which was engaged by Avantage directly as its agent and clerk of works, has also been listed as a defendant.
GB Solutions, which was formed through a management buyout of MJ Gleeson's contracting arm in 2005, went bust in 2015.
According to court papers, GB Solutions "has never participated in the proceedings".
Proceedings were issued in October 2019 but have come to light as a result of a judgement handed down by Justice O'Farrell after a hearing at the Technology and Construction Court last month.
The hearing concerned the claimants' application to call a new expert, Dr Neil Ketchell, in place of Sarah Hooton and Peter Wise, who had previously been slated to give evidence.
Hooton has had to withdraw from the trial due to serious illness and the claimant contends that her proposed replacement has sufficient expertise to also cover the areas of evidence which Wise was set to handle.
The defendants' lawyers accepted the need for Hooton's replacement, but dispute that of Wise and insisted that in both cases, permission should only be granted if the two experts' earlier reports, opinions and investigation notes were disclosed.
Justice O'Farrell agreed that Hooton could be replaced as long as her inspection notes and reports were shared with the defendants, as well as her notes of any interviews she undertook with witnesses or potential witnesses of the fire.
The court case had been due to take place this month but has been delayed by unsuccessful attempts to solve the dispute through mediation.