First phase of 1,000 home scheme by developer Citu to create canal-side neighbourhood in underused part of the city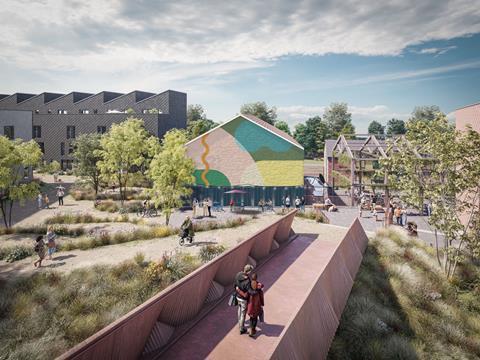 Leeds-based developer Citu has submitted plans for the first phase of a £300m net zero neighbourhood in Sheffield.
The 1,000-home Attercliffe Waterside scheme would be one of the largest zero carbon developments in the UK if approved.
It has been designed by the developer's in-house design team Citu Design and would be located on council-owned brownfield land either side of the Sheffield and Tinsley Canal.
Plans for the £100m first phase, on the northern side of the canal, would transform six existing buildings at the centre of the scheme into community spaces including bars, an independent bakery, music venue and art studios.
A public square would also be created, linked with a series of south-facing courtyard areas, walking routes down to the canal and a footbridge crossing to the south side of the river.
The phase will also include 447 timber-framed apartments and houses built using low carbon materials.
The homes will be constructed on a podium above an undercroft car park, although Citu said it eventually plans to make the neighbourhood car-free.
Sheffield council brought the land to market in 2019 and signed a development agreement for the site with Citu in May this year.
The developer's Chris Thompson said the aim of the scheme was to create a new destination for Sheffield which will kickstart the regeneration of the city's East End.
"For so long, this part of the city has remained derelict and underused, and we were keen once the development deal was signed in May to swiftly move forward with our planning submission," he said.
>>See also: Homing in on net zero: do housebuilder pledges make a difference?
>>See also: Could stamp duty reform be the answer to making UK homes net zero?
"We've prioritised the leisure and commercial elements of the scheme first to put this area on the map as a place to visit and enjoy, and then when the homes are built, a place to live.
"We're not just building homes, we're creating a new neighbourhood complete with its own identify, one that incorporates the heritage and beautiful waterside location of this place.
"And underpinning this, is our ambition to establish a low carbon community that will enable future generations to live more sustainable lifestyles."
If planning is approved, work will begin on the leisure and commercial elements of the scheme in the autumn and due to complete in 2024, ahead of construction starting on the homes in 2025.
Citu was founded in 2004 and now employs 120 people with its currently live projects valued at £500m.