Apprenticeship programme that began in the North-east is now expanding across England and into Canada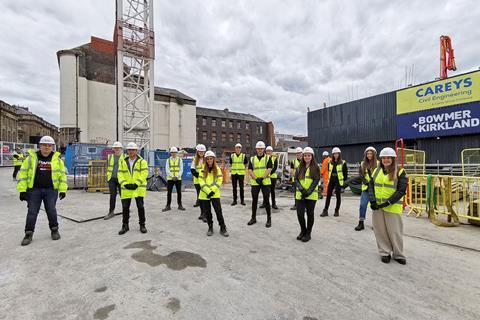 A unique apprenticeship programme, initially established in North East England to provide young individuals with a solid foundation for careers in the built environment, has seen significant success, prompting its expansion both nationally and internationally.
The PlanBEE programme, developed collaboratively by Ryder and Gateshead College, aspired to bridge the skills and talent gap within the built environment sector. The higher apprenticeship, initiated in 2016, was designed to encourage young people to enter and flourish in the industry. The curriculum covers various disciplines, encompassing roles in architecture, engineering, quantity surveying, and construction, with a strong emphasis on digital skills.
In conjunction with their academic studies, apprentices are employed to gain hands-on experience, rotating among employers such as Bowmer + Kirkland, Sir Robert McAlpine, Cundall, Mott MacDonald, and Ryder.
Following its initial success in the North East, PlanBEE expanded to Manchester in 2021, as a collaboration between Manchester City Council, Ryder Architecture, and Gateshead College. Since its introduction, the number of apprentices and participating businesses has grown by an impressive 122 percent. The inaugural PlanBEE Manchester apprentices have recently graduated, securing full-time positions with companies including Buro Happold, Eric Wright Construction, Purcell Architects, and Ramboll.
Ayman Abdulgabar, a recent PlanBEE graduate who is now a trainee quantity surveyor with Turner & Townsend, shared, "What attracted me to PlanBEE was the fact that it provides extensive exposure to the various skills involved in the construction industry.
"All I knew was that I wanted to work in the industry. I would definitely recommend the course. Instead of attending university for a degree in an area that I might not have enjoyed, PlanBEE gave me an insight into the various disciplines so I could understand better what I wanted to do in the future."
>> Also read: It's time for architectural practices to step forward and embrace vocational training
Building on its success, PlanBEE has expanded to London, in partnership with the London School of Architecture (LSA), and is supported by several London boroughs. The first London apprentices began their program in September 2023.
Neal Shasore, Head of School and Chief Executive at the LSA, stated, "There is a pressing need in the built environment to develop the best talent and equip them with the tools to address our current and future challenges. PlanBEE is a proven and innovative apprenticeship providing an excellent opportunity to support this need."
In Vancouver, British Columbia Institute of Technology (BCIT) adopted PlanBEE after an introduction by Ryder. This led to the creation of an adapted version of the program, including a new industry-led apprenticeship and micro-credential for schools.
Wayne Hand, Dean of the School of Construction and Environment at BCIT, expressed excitement, saying, "BCIT is excited to be spearheading this unique initiative that offers motivated high school students a deeper understanding of career opportunities in architecture, construction, and engineering, enabling them to make informed decisions about their future careers."
Mark Thompson, Managing Director at Ryder, commented, "It's wonderful that our PlanBEE programme, created in North East England, has received not only national but international attention. This highlights just how successful it's been in shaping the future workforce for the built environment. It's a very transferable course, and we're confident it will prove just as successful in London and Vancouver."
Since its inception in 2016, PlanBEE has facilitated over 500 industry placements, with 74 students graduating, 97 percent of whom have transitioned to permanent jobs within the sector.
Chris Toon, Deputy Principal at Gateshead College, noted, "PlanBEE has been phenomenally successful, attracting attention from UK industry and overseas. The global recognition is great news for the sector and the development of the future workforce. The apprenticeship has directly improved talent development in the industry and brought great benefits to employers across the North East and Manchester.
"We're confident London and Vancouver will experience the same impact. We're also pleased that PlanBEE has created an opportunity for those from underprivileged and underrepresented backgrounds, increasing diversity and inclusivity in the sector."
Apprenticeships like PlanBEE are seen as crucial by many in the industry for future-proofing key sectors and equipping workforces with the necessary skills to succeed.
>> Also read: Time for Plan BEE: helping architectural education break out of its silo