Practice's green vision pips shortlisted schemes from Weston Williamson and Matthew Halsall
PDP London has won an international design competition to create a green strategy for the Low Line walking-route project in Southwark.
The practice beat four other shortlisted teams with its Low Line Commons bid for the pathway – linking Victorian railway arches in Bankside, London Bridge and Bermondsey – drawn up with landscape architect Macfarlane and Associates.
Weston Williamson & Partners, Ludwig Willis Architects, Matthew Halsall Design Studio and Madrid-based Gutiérrez-delaFuente Arquitectos were the other lead-architect contenders in the RIBA-run competition. Details of shortlisted proposals were revealed in November, but the names of the practices behind them were not made public until today.
PDP London's winning bid focuses on building a "common vision" for the Low Line and puts the local community, as well as nature, at the heart of the project.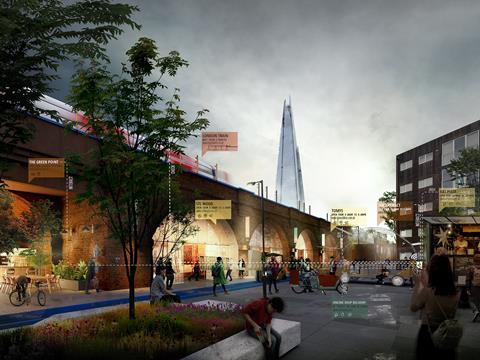 Organisers said the design offered four interlinked themes to help guide the emerging Low Line: productive green infrastructure, convivial public space, diverse and green economy, and historical and cultural connections.
The proposals include a range of ecological interventions designed to improve air quality, such as tree-planting, community gardens and wildlife habitats. There will also be bioswale planting and rain gardens to manage surface flooding and store water.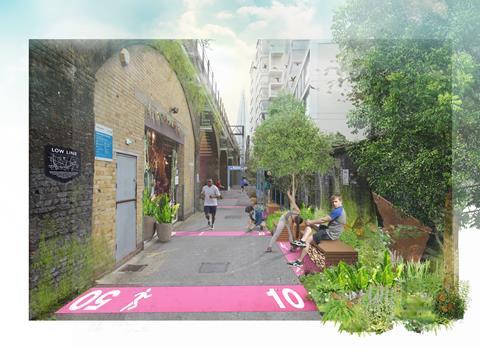 Pedro Roos, a partner at PDP London - the new name for Paul Davis & Partners - said the practice's winning proposal aspired to be a "shared natural and cultural resource of the people, by the people and for the people".
"It aims to transform the arches from being a barrier to a seam sensitively knitted into the multiple layers of the local context," he added.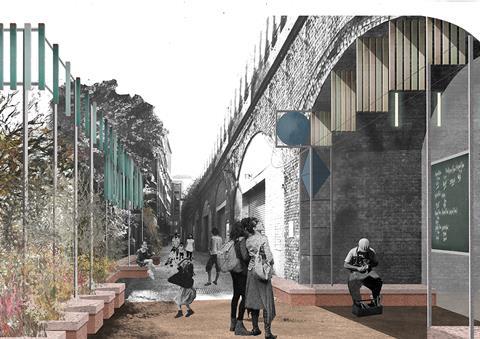 "We look forward to working with the client team in developing the Low Line as a robust piece of infrastructure for London that creatively tackles the current environmental, economic and social challenges head-on."
The Low Line project has been developed by a consortium of local business-improvement district teams, Southwark council and a selection of individual businesses.
It has around £1m in funding from the project partners and a further £1m from Mayor of London Sadiq Khan's Good Growth Fund.
Around the Low Line
Allies & Morrison founding partner Graham Morrison was a member of the evaluation panel for the competition – as was Lisbet Rausing, co-founder of Lund Trust, which supported the design challenge.
Rausing said the competition, which attracted 82 submissions in response to July's original call, had resulted in a host of excellent visions for developing environments in which nature and people could flourish.
But she said the winning design offered "a thoughtful and inclusive approach that showed how public space could be transformed to provide vital connections between communities, the built and natural environment, and the history and future of the area".